Its actually amusing to watch a 3 year old. I ll call it the transformation phase. From a toddler to a kid. So when my SIL s daughter was here, she blew up quite a storm. I m used to a quiet house all to myself. So, having her here was a lil different and boy! she s quite a charming young lady. She can convince anyone with that big toothsy grin of hers. Now, if you are wondering why i m talking about this particular charming young lady, it s just to tell you that i ve been dead on the blog because of her. While the television was constantly tuned into POGO with Chota Bheem performing all kinds of antics, the lil minx dint spare the kitchen as well. She used to breeze in unexpectedly, raid all the shelves, pick up a packet of those yucky packeted chips ( sorry if you like them!) and go back to watching Bheem. So, doing anything normal was itself a big task. Doing something out of the ordinary.Well! the question was ruled out. I did manage to make a few things before she breezed in to color our lives. Unfortunately i couldnt get the camera out when she was here. So this s just a part of those set of dishes that i made way back.
Sundal is a Navrathri thingy in most south indian homes. We can liken it to a legume salad with all the indian elements in it. This s a very simple recipe and is a face saver on one of those days when your H wants to snack on something but you dont have anything. Whizzing to the recipe now.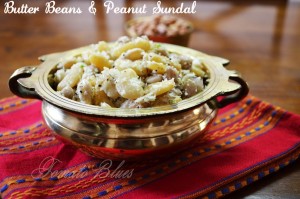 Prep Time: Soaking Time-2 hours
Others Under 10 mins


Cook Time: Under 30 mins


Serves 3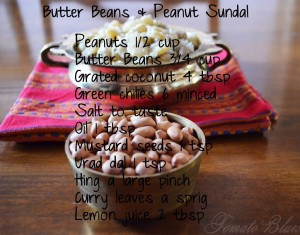 ( This is kinda an indian salad. Loaded with protein, its a fun snack as well as a great accompaniment to any meal. You can add onions to this if you desire. But then, avoid the lemon juice.Make sure you dont overcook the peanuts and beans or you will be left with a gooey mass.)


What You Need?
Peanuts 1/2 cup
Butter Beans 3/4 cup
Grated coconut 4 tbsp
Green chilies 6 minced
Salt to taste
To Temper:
Oil 1 tbsp
Mustard seeds 1 tsp
Urad dal 1 tsp
Hing a large pinch
Curry leaves a sprig
Garnish:
Lemon juice 2 tbsp
How To make it?
Soak the beans and peanuts together in about 3 cups water for 2 hours.
Pressure cook the beans and nuts together for 3 whistles or until tender and soft. Drain the water completely.
Heat a kadai with the oil.
Add mustard seeds. Once they splutter, add the chilies, urad dal, hing and curry leaves.
Once the dal turns a light brown, add the peanuts and beans along with some salt and combine well.
Now, add the grated coconut and saute well.
Remove from fire. Let cool completely.
Add the lemon juice and mix well.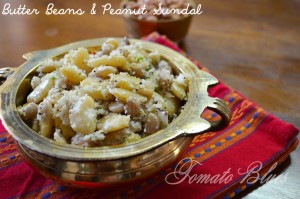 Serve as a snack or as an accompaniment for lunch.
Sending this to My Legume Love Affair hosted by A Canadian Foodie this month.