HOW TO MAKE BRINJAL CAPSICUM CURRY?
BRINJAL CAPSICUM CURRY- A QUICK TO MAKE CURRY WITH A DELICIOUS COMBINATION OF BRINJAL AND CAPSICUM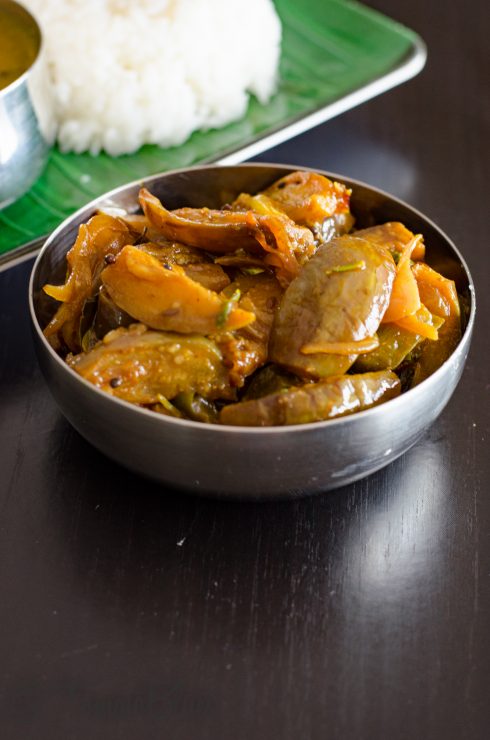 Brinjal capsicum curry is a winner at my house every time i make it. We like it with chapati, rice and sambar or we just mix it with hot rice and ghee. All we need is a papad to complete the meal. What brinjals lack in terms of nutrition, they make up for in taste. Mr.P never liked them before we got married but now he has grown to like some forms of it.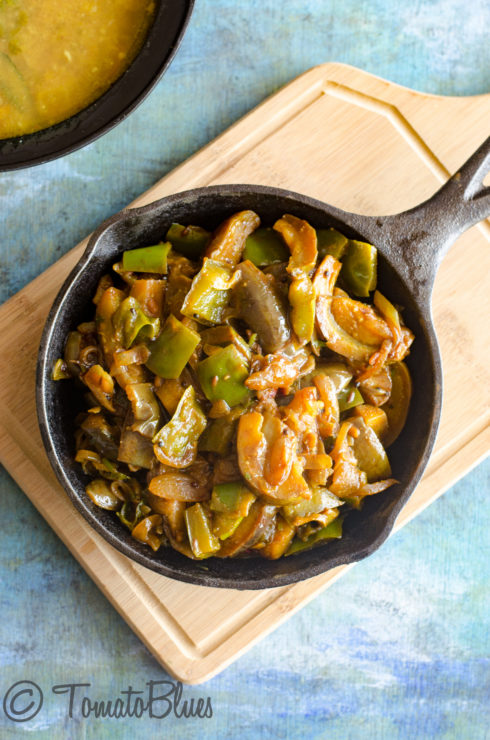 And this Brinjal capsicum curry is one of those forms in which he enjoys eggplants. This is a quick curry that can be made in 15 mins. Make sure you use tender purple eggplants for this. To make the brinjal capsicum curry more colorful, add red and yellow peppers instead of the green ones.
Here is the video for Brinjal Capsicum Curry Recipe:
If you liked and enjoyed the video, please subscribe to our YouTube Channel.
If you are looking for more recipes featuring eggplants ( brinjals), check out  Kathirikai Theeyal, eggplant, enna kathrikai kuzhambu, kathirikai kara kuzhambu
Recipe For Brinjal Capsicum Curry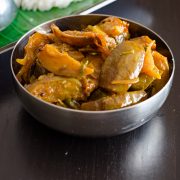 Print Recipe
Brinjal Capsicum Curry Recipe
Brinjal Capsicum Curry- a simple and quick curry with eggplants and green peppers. Pairs well with rotis, rice and chapati
Ingredients
Purple brinjals

eggplants 10 stalks removed and quartered

Capsicum 1 medium chopped into bite size pieces

Onion 1 largish sliced thinly

Thick tamarind extract 2 tbsp

Turmeric powder 1/2 tsp

Red chili powder 1 tsp

Coriander powder 1 tsp

Salt to taste

Curry leaves a few

Oil 1 tbsp

Mustard seeds 1 tsp

Cumin seeds 1 tsp

Urad dal 1 tsp

Hing

asafoetida a small pinch

Coriander leaves 1 tbsp chopped finely
Instructions
Heat a pan with oil.

Add the mustard seeds and once they pop, add the urad dal and cumin seeds.

Add hing and curry leaves next.

Now, add onions and fry till translucent.

Once done, add the turmeric powder and mix well.

Add red chili powder, mix and add the coriander powder next.

Mix well.

Add the capsicums next and fry for a min.

Now, add the brinjals, mix well.

Add tamarind paste and cook for a min.

Add salt.

Mix again.

Cook covered on medium flame for 4 to 5 mins.

Once done, open and garnish with coriander leaves.

Serve hot.
For Instant Pot & Air Fryer Recipes
Instant Pot timings may vary based on your geographic location. Air fryer settings and timings may vary based on the capacity and the model of the Air fryer.
Disclaimer
Nutrition values are provided here as a courtesy and are only a rough guide. Please consult a health care provider if you have any concerns.