There are some days when my pantry has a little of everything and not a lot of something. Say i may have one carrot and 2 to 3 beans sitting idly in the bottom of the veggie drawer. And there are some days when i have a loaf of bread whiling away its time in a mighty jolly way in the pantry. And that s exactly when i make bread
kofta
curry
.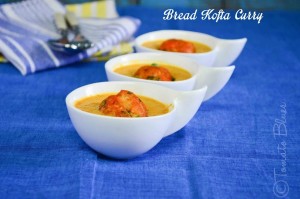 What s brilliant about this kofta recipe is that its not deep fried and it s also very kid friendly. You can even nibble on it as a snack during the evenings. And it can be made a few hours ahead and stored in the fridge. You can just whip up the gravy later and dunk the koftas in! Its a no fail recipe that s never let me down when there s a party to throw. And its a fabulous way to spring clean your vegetable drawers in the fridge. So, shall we chow down?
Recipe For Bread Kofta Curry
( Shallow fried koftas in a rich gravy)
Prep Time: 20 mins
Cook Time: 40 mins
Serves 3 generously
Level: Intermediate
Ingredients
For The Kofta:
Bread slices 3 crust and all
Potato 1 small boiled and peeled
Carrots,peas, cabbage, cauliflower and beetroot 1 c boiled till tender yet firm
Garam masala 1 tsp
Red chili powder 1.5 tsp
Roasted cashews 1 tbsp
Cilantro 2 tbsp chopped finely
Corn flour 1 tbsp
Salt to taste
Oil to shallow fry
For The Gravy:
Onion 2 medium chopped finely
Tomato 2 medium chopped finely
Ginger 1/2″ bit
Garlic 3 cloves
Cashews 6
Garam masala 1/2 tsp
Red chili powder 1 tsp
Kitchen king masala 1/4 tsp
Any biriyani masala 1/4 tsp ( optional)
Turmeric powder 1/2 tsp
Milk 1/2 c
Oil 2 tbsp
Cumin seeds 1 tsp
Salt to taste
Cilantro for Garnish
Directions
Lets prep the gravy first.
In a pan, heat 1 tbsp of oil.
Saute onions till translucent and tip in the garlic and ginger next.
Now, add all the spice powders and saute for 30 secs.
Next add the tomatoes and cook till mushy.
Throw in the cashews next and cook for a min.
Let cool completely.
Transfer to a blender and grind to a smooth paste without adding any water.
Now, in the same pan where you fried the onions etc, heat the remaining oil and crackle the cumin seeds.
Transfer the ground paste to this and stir well.
Cook on low flame for 2 mins.
Add salt and milk and mix well. You can alternatively use cream too.
Set aside.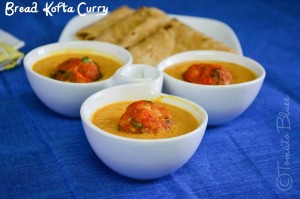 Lets get going with the koftas.
I used a abelskeiver pan to shallow fry my koftas. You can use a paniyaram pan too.
In a large mixing bowl, combine all the ingredients for the koftas except the oil.
Knead to get a smooth dough like mixture.
Check for seasoning, adjust if required and shape into balls.
Heat the paniyaram pan with about 1 tsp oil in each groove.
Place the koftas gently in the grooves and cook on medium flame until golden brown all over. Keep turning the koftas now and then to ensure even browning.
Remove and drain on kitchen towel.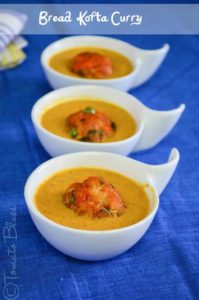 Dunk the koftas in the gravy only minutes before you serve. Garnish with cilantro and serve alongside phulkas or butter naan. Goes well with vegetable pulao too.