Not very long ago, i discovered that yeast and flour are my best friends in the kitchen. I love baking bread. For, there is nothing like a brown fluffy loaf of homemade bread. Its tough to stuff up on store bought loaves once you have begun baking bread from the scratch. I might just brag a wee bit here and tell you all that my blog has about 15 bread recipes, all from the scratch!! ( ahem.. ) Along those lines, i m always looking for newer platforms to learn more bread recipes and techniques.
Zorra s Bread Baking Day
is one such platform where bread baking lovers across the globe come up with new enticing loaves every month. I m only too happy to say that
Zorra
has very kindly given me the opportunity to host Bread Baking Day Edition 61. I m very excited to guest host this lovely event and i m sure i will be flooded with breads from all you wonderful folks! So, get ready, perk the yeast guy and bake up some bread.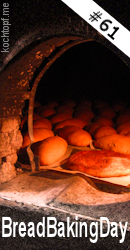 For your bread to be a part of Bread Baking Day, you need to
1. Bake a stuffed yeasted bread basically! Yes, the theme for this month is STUFFED BREADS. Stuff anything, savory or sweet. No meat allowed though. An egg or two is acceptable.
2. You got to bake the bread and post about it on any day between July 6th, 2013 and August 5th, 2013.
3. Link back your post to this post and to Zorra s page.
4. Recipes must be written in English
5. Two good loaves from one person and no archived entries please.
6. Once you are done with all that, shoot an email to anusapraj@gmail.com with the following details
Name of the recipe:
Name of your blog:
Post URL:
A picture of the beautiful loaf that you baked!
The roundup of Bread Baking Day 61 will be live on August 7th, 2013. Awaiting all your fragrant luscious breads!