How To Make Blueberry Ginger Limeade?
Blueberry Ginger Limeade- A Delicious Thirst Quencher With Fresh Blueberries. Summer Recipes.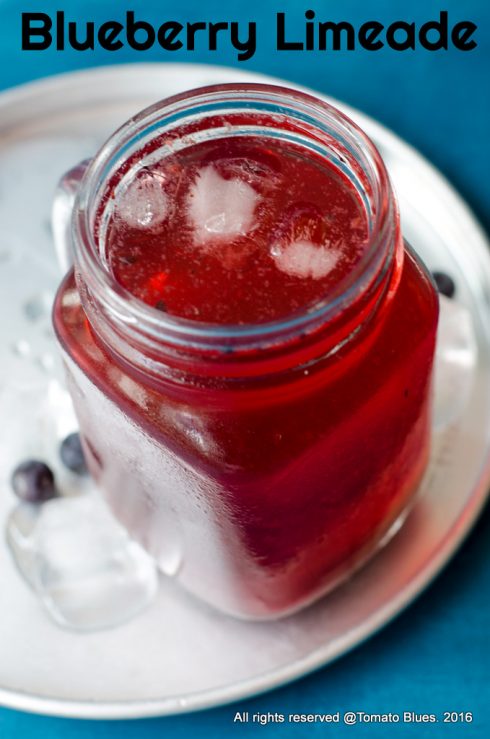 Blueberry Ginger Limeade is a simple drink made with fresh blueberries, lime and ginger. Summer is here and it is beginning to feel sweaty and hot already. And it is not even the middle of April, yet! Thanks to global warming and pollution, the mercury rises more and more as every year passes by. It is also the time when Navratri fast begins. In order to keep one hydrated and fresh during these times, it is necessary that we drink lots of fluids in some form or the other. May it be in the form of juice, smoothie, lassi or this delicious blueberry ginger limeade, its essential that we sip on fluids all day during summers.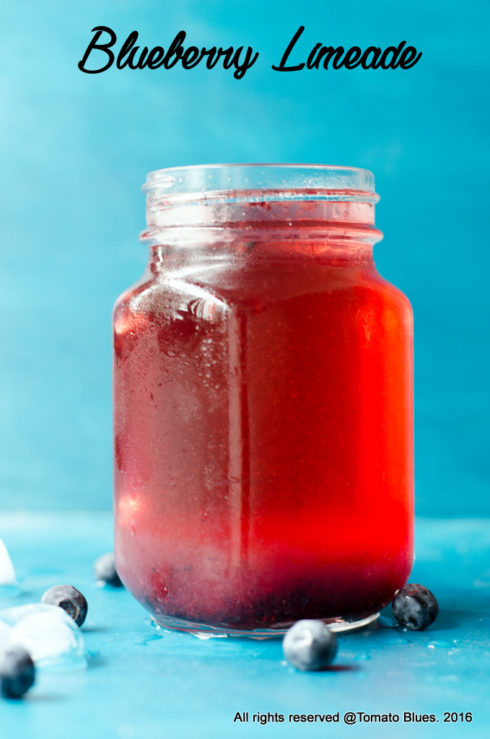 This limeade came together just like that when i was aimlessly flicking channels and realised i was super thirsty. Well, i was thirsty and i wanted something more than water. I opened my fridge and found that a box of fresh blueberries were unopened. It is very rare that such miracles happen in my fridge- finding fresh bluberries uneaten, that is. Father and daughter promptly devour the berries even before i get to think of what to make with them. Such is life, these days. Sigh!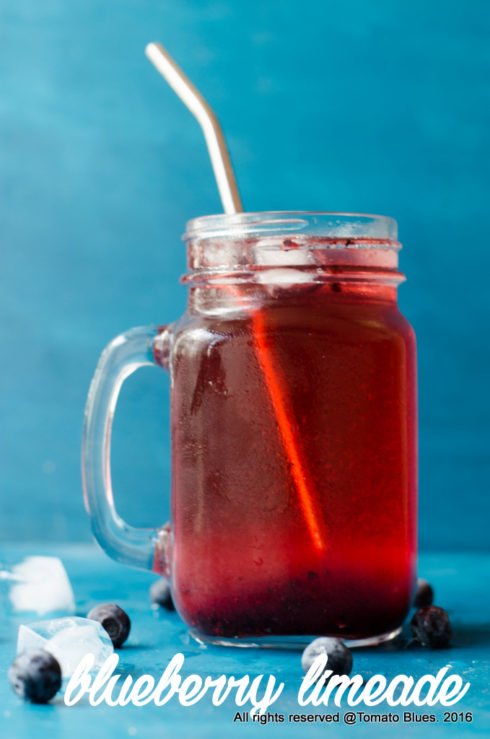 I technically wanted to make a blueberry ginger lemonade. But i discovered that what i had on hand were limes and not lemons. So it had to be blueberry ginger limeade. Before you ask what is the difference between a lemon and a lime, let me tell you this. A lemon is a lemon and a lime is a lime. Sounds lame? Well. Not really. Because each has its own distinct flavor which gets more pronounced when combined with certain elements like ginger ? Or blueberry? You got to believe me on this one. Oh, a fun fact here- Lemons are believed to have originated in Burma first while limes are believed to have been cultivated in Persia. And limes are technically hybrid. I guess that is enough fun fact, eh? Back to the blueberry ginger limeade- so, i decided to use up those gorgeous Thai green limes that i had picked up from the farmers' market. And somewhere midway, i had this uncontrollable craving to have a ginger beer. And so, enter GINGER. I love ginger. Period. The health benefits of ginger are many and it is notable for its digestive properties. So, i added a bit of ginger even though i was sure that this blueberry ginger limeade and that ginger beer that i craved for are miles apart. And its pretty much the routine from there on. I had a simple sugar syrup in stock. So i blitzed up some berries, a dash of ginger, the juice from about 2 limes and added this to the syrup. And there my blueberry ginger limeade was almost good to go. So, here you are – the recipe for blueberry ginger limeade.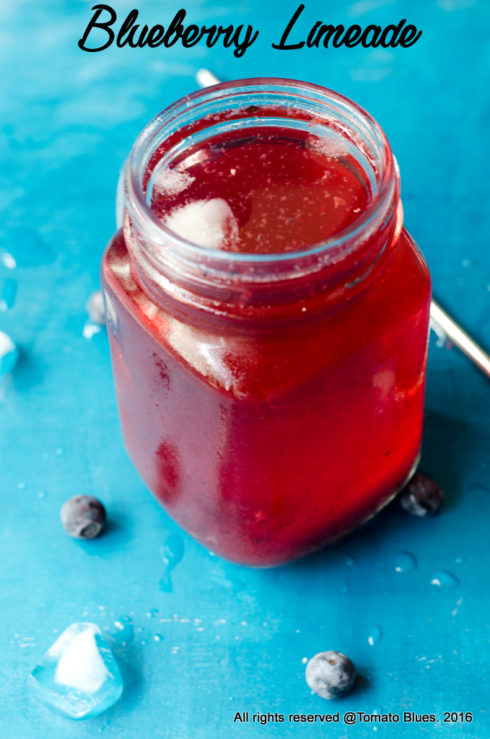 Recipe For Blueberry Ginger Limeade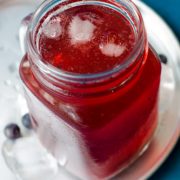 Print Recipe
Blueberry Ginger Limeade
Blueberry Ginger Limeade is a refreshing drink made with fresh blueberries, ginger and lime. Great for summer, kids parties and barbeques.
Ingredients
Blueberries 12 fresh

see notes

Grated ginger 1.5 tsp

Lime juice 3 tbsp

Sugar 1/2 c

Water as required

Ice cubes to serve
Instructions
Combine sugar and 3/4 c of water in a pan.

Heat this mixture until the sugar dissolves completely.

Let cool.

Blend the berries and ginger to a smooth puree in a blender. I like chunks of berries in my drinks. So i did not blend till very smooth.

Add this to the cooled sugar syrup and mix well.

Add lime juice to this and mix.

To make blueberry ginger limeade, combine 1 part of blueberry limeade syrup with 2 parts of water.

Top with ice cubes and serve cold.
Notes
1. Frozen blueberries will work just fine in this recipe.
2. If you dont have access to limes, then try and experiment with lemon juice or orange juice.
For Instant Pot & Air Fryer Recipes
Instant Pot timings may vary based on your geographic location. Air fryer settings and timings may vary based on the capacity and the model of the Air fryer.
Disclaimer
Nutrition values are provided here as a courtesy and are only a rough guide. Please consult a health care provider if you have any concerns.