Frankly talking, I m not a huge fan of halwa. Not a huge fan of sweets at all for that matter. So making sweets is always a challenge to me. Not a piece of cake at all to make halwa for me. So i must say hats off!! to all those halwa makers in the world. I mean!! Whatte skill!! And to get the same consistency, same texture and same taste everytime and anytime you make it is even more admirable. When my dad brings home my favourite and my only favourite sweet- Wheat halwa, i wonder aloud to my mom, " Amma, eppadi ippadi ore mathri ore colourla ore tastela panranga?" And i used to finish by saying " That s so amazing" And my mom had only one repartee-" Practice maketh a man perfect" And my dad had one too, " Unakku yen andha kavalai chella? Vaangittu vandha, sapdu. Panrathellam namakku ethukku??" ( i m fondly called chella and that dialogue translates to " Why the worry of making? Eat what i ve bought. Dont bother making it) Imagine that! Anyway, wheat halwa is something too too too far fetched for my repertoire. So, i stuck to beetroot halwa. When i visited Chennai last month, my co sister and me were having a very hungry conversation. When i fretted that i could not make carrot halwa( she makes it well so people say), she retorted back asking, " are you serious?" Now, i had had enough!! I decided i ll try and try till i succeed. But, gals! i dint even reach the second try. I made beetroot halwa and this is my first attempt. It was exactly like the store bought versions.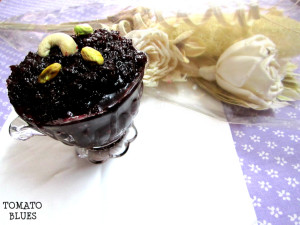 Prep Time: Under 20 mins
Cook Time: Under 1 hour
Serves 4
What you need?
Beetroot grated 2.5 cups
Milk 1 and 3/4 cups
Sugar 1+1/4 cups
Cardamom powder 1/2 tsp
Ghee 5 tbsp ( No! you cant use butter. So please put it back in the fridge)
Cashews for garnish
How to make it?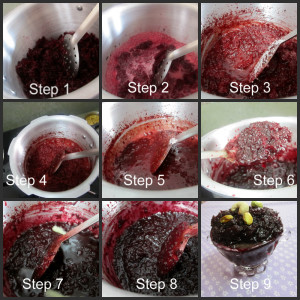 Step 1: Take a thick bottomed vessel. I used my little pressure cooker. Heat about 2 tbsp ghee in it.
Add a pinch of cardamom too. Now, add the grated beetroot and saute for 5 full mins.
Step 2: Next, add the milk and bring the milk to a boil.
Step 3: Bring the flame to medium and let the mixture cook. Cook till the mixture thickens. Keep stirring frequently. Mine took some 15 mins to 20 mins to thicken completely.
Step 4: Add the sugar to the mixture once it has become shiny and mix well.
Step 5: Addition of sugar makes the mixture watery again. So let it simmer. Until it thickens again. Takes about 15 mins on medium flame. Keep stirring. That s the mantra here.
Step 6: After 15 mins or so you should have reached the consistency where the mixture has thickened and you can scoop it up a lil like in the picture.
Step 7: Add the remaining ghee and mix well. Stir till the mixture leaves its sides.
Step 8: Garnish with cashews fried in ghee.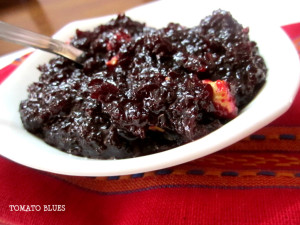 Step 9 : Transfer to a serving bowl and serve as a dessert 🙂