The kathiri veyil or the agni natchatram, the peak of an Indian summer comes to an end today. You have no idea how many times i thanked Lord Almighty for that. But still the news dint help much. For it was hot as before. Just like yesterday, the day before yesterday and all the blessed days of this month.
It shines as though there s no tomorrow right from seven in the morning. Bang on. Why, imagine, i found birds chirping away at 3 AM in the morning only the other day, to my horror. I couldnt believe that the day had already begun. Thanks to Summer. And because it s that blistering hot ever since the morning, we ve been gulping down tall glasses of smoothies or shakes for breakfast. One morning, ( you see, history repeats itself too often than not in my household), as usual i found myself staring at an overripe banana and i simply whipped it up into this easy cooling milk shake. It was gone in a trice.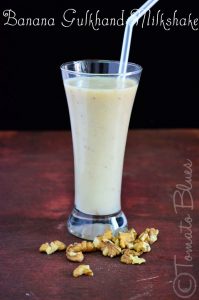 Recipe For Banana Gulkhand Milkshake
( Easy to make shake with ripe bananas)

Prep Time: 2 mins
Cook Time: Nil
Serves 2
Level: Easy

Ingredients
Banana 2 ripe peeled
Gulkand or rose petal preserve 2 tbsp
Sugar 1 tbsp
Cold Milk 1.5 c
Ice cubes 4 to 5
Walnuts to top
Directions
In a blender, puree banana, gulkand, ice cubes and sugar.
Now, add the milk and blend well again.
Pour into tall glasses and serve topped with walnuts.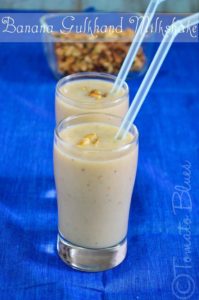 Can breakfast get better than this? Not to mention, easier?