When i used to live in Bangalore, there was a sweet store near by where i lived. Now the reason why that sweet shop is still dear to me is because i have eaten my fair share of their samosas stuffed with golden cashews, raisins and bits of paneer. No samosa has ever lived up to that samosa. That one samosa which dint make you gag after eating just one. I could go eating about 6 samosas all at once. But what excited me more than the samosas was the badam milk that the place served. They had an option of serving it cold or hot. At that point in my life, i simply took to their cold version. Even though Bangalore was cold almost always, i somehow fancied the cold badam milk. Thick, creamy with bits of almonds enticing your mouth between a few gulps.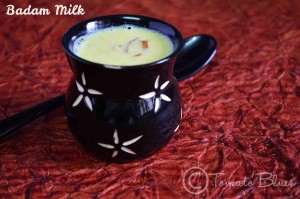 And i m not a fan of those powdered badam milk mixes available in the market. I find the flavor overpowering and its almost always full of every other ingredient but almonds. A while back, Mr. P who usually makes a run for it if someone so much as says M of milk, made an unusual request. He expressed his passion for badam milk. It came to me as a surprise but i was glad that he was taking to milk. So, i tried recreating my version of that badam milk that i used to devour in college days. Only, i served it hot as the weather is almost wintry here. This is a perfect welcome drink that can be made in advance for any party. The recipe is very forgiving. You can add as much or as less of any one ingredient. Ultimately, it all boils down to what you like. I mean, isn't it the same for almost all recipes? Whoever says something has to be done only one way? Food is to relish and its no science, ain't it?
Recipe: Badam Milk
Prep Time:Overnight Cook Time: 10 mins Allergy Info: Gluten free, Soy Free
Cuisine: Indian Course: Drink that can be served at the beginning or end of a meal
Yields 500 ml __________________________________________________________________________________
Ingredients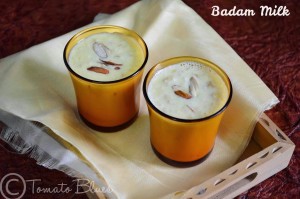 Almonds 1/2 c soaked overnight and peeled
Milk 500 ml ( I used full fat)
Sugar 3/4 c
Cardamom powder 1.5 tsp
Saffron strands a few
Pistachio slivers a few for garnish
Almond slivers a few for garnish
Directions
Remove 1/2 c of milk, bring it to a rolling boil and add saffron strands to it. Let it sit.
Now, add another 1/2 c of milk to the peeled almonds and grind to a slightly coarse paste.
Heat the remaining milk and sugar along with cardamom powder until the milk comes to a rolling boil.
Now add ground almond paste and mix well.
Add saffron flavored milk to this milk.
Top with pistachio and almond slivers just before serving.
Serve hot or cold.
But hot is my bet for these wintry days.
Note: Dont reheat the badam milk after making it. The milk will curdle.
Make sure you dont add too much cardamom or saffron or the almond flavor wont shine through.