My husband loves sweets. But in my opinion, sweets are more difficult to make. Its a tricky thing where even a second or two matters to achieve the right colour, texture, consistency etc. And i made badam halwa when i began cooking. Surprisingly, it turned out excellent and it has been that way from then. I love almonds. No wonder they are called the king of nuts. And i m in love with almonds. Phirni, badam milk, milk shakes, halwa and what not?? Healthy and delicious. That s what almonds are. And badam halwa is the best thing that can come out of a cup of almonds in my opinion. For my husband, Anu presents Badam Halwa.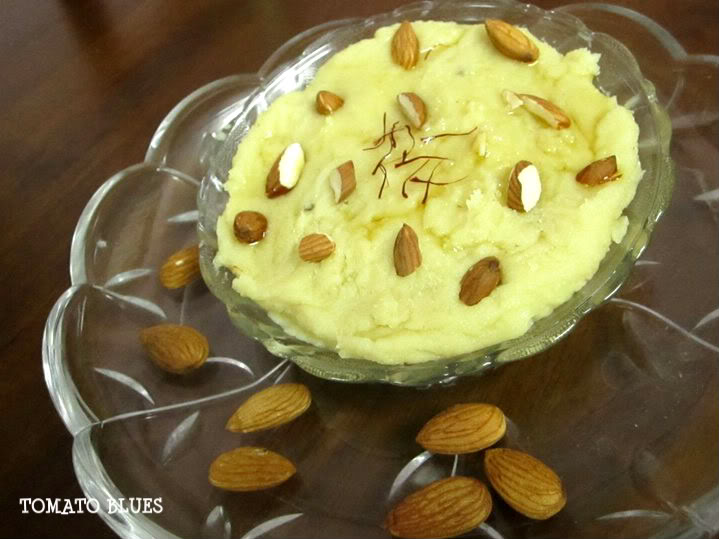 Prep Time: Under 30 mins
Cook Time: Under 20 mins
Serves: 2 to 3
Source: Adapted from chefinyou.com


What you need?
1 cup blanched almonds (Place the almonds in a bowl. Pour boiling water over it and let sit for 2 mins. Dont let it sit in the water for too long because the almonds become very soft and becomes difficult to peel. Then, transfer to a colander and rinse under cold water. Now wait until you can touch the almonds. Then hold the almonds at the broader end and press. Blanched!!)
1 cup milk (use skimmed milk if you are calorie conscious not that it matters anyway forget the calories i say!! this is so worth it)
1 cup sugar
1/2 cup ghee
1/2 tsp cardomom powder
1/2 tsp saffron threads
A few almonds slivered for garnish
How to make it?
First grind the blanched almonds and the milk together to form a coarse paste. Add milk little by little while grinding because all of that milk at once will not grind the almonds well. You can add all the milk at the end when the paste is almost done.
Now take a non stick pan. Yes, i said non stick because that is sure fire. Pour about half the ghee and heat it up. Next add cardomom. Now add the paste. Cook the paste for 4 mins stirring continously. If you give a break for long, it will burn. Its a very tricky thing to make. Be careful. The mixture will stick to the pan initially.
Next, add the sugar and mix well. Now the mixture will turn a little liquidish. Thanks sugar syrup !
Some people even make sugar syrup and add it to the almond paste. But that doesnt work well for beginners.
Now, cook the mixture for 8 to 10 mins. It starts boiling with little bubbles on the top.
Add this point, add the remaining ghee and saffron strands and mix well.
Keep stirring until you get a lumpy mass formed all together.
That s when it is done. Garnish with the slivered almonds and serve as a dessert or start eating it right away just like we did.
Note: You can add yellow food colour to the halwa.
Also, you can reduce the amount of ghee if you are cal conscious.