I can see my interest in the blog dwindling. With other things on my mind, i am not able to click much. Lets say i m not feeling very pally with the shutterbugs now. I m cooking a lot though. And what a duffer am i to miss the FBTE yesterday. Well, yesterday was a different story with a runny nose and a hoarse voice. I simply cant click. No focus. And the mind is blank. I cant summon the energy to assemble the food, adjust the lights and click. And then edit. Seems like a herculean task all of a sudden. Maybe it s the heat that s bringing about this lack of spirits.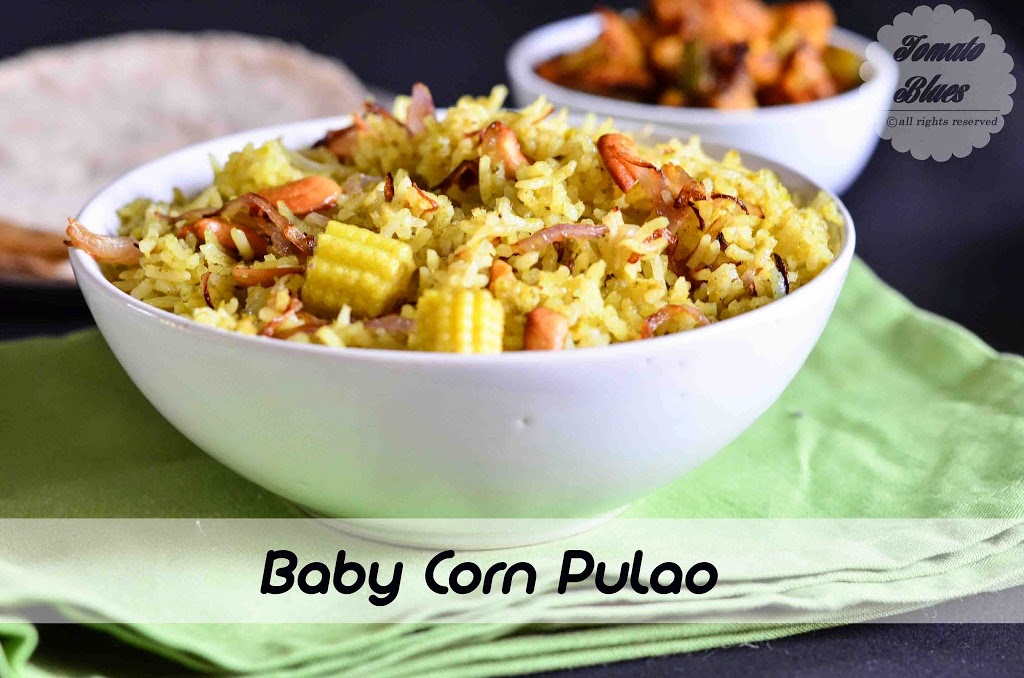 After some lengthy introspection yesterday morning, i decided that this attitude simply wont do. It s not taking me anywhere and it wont either. I have to snap out of that lethargic phase where anything and everything seems too much work for me. And i did get back my spirits when i decided to make this pulao.
Albeit the fact that i did have some doubts in making pulao with corn, i knew i was terribly wrong when i had finished chopping up the tender and sweet baby corn ears. I certified myself that i was wrong when i ground the masala. And when the pulao was cooking, i admonished myself for presuming too much about some simple yet wonderful things in life.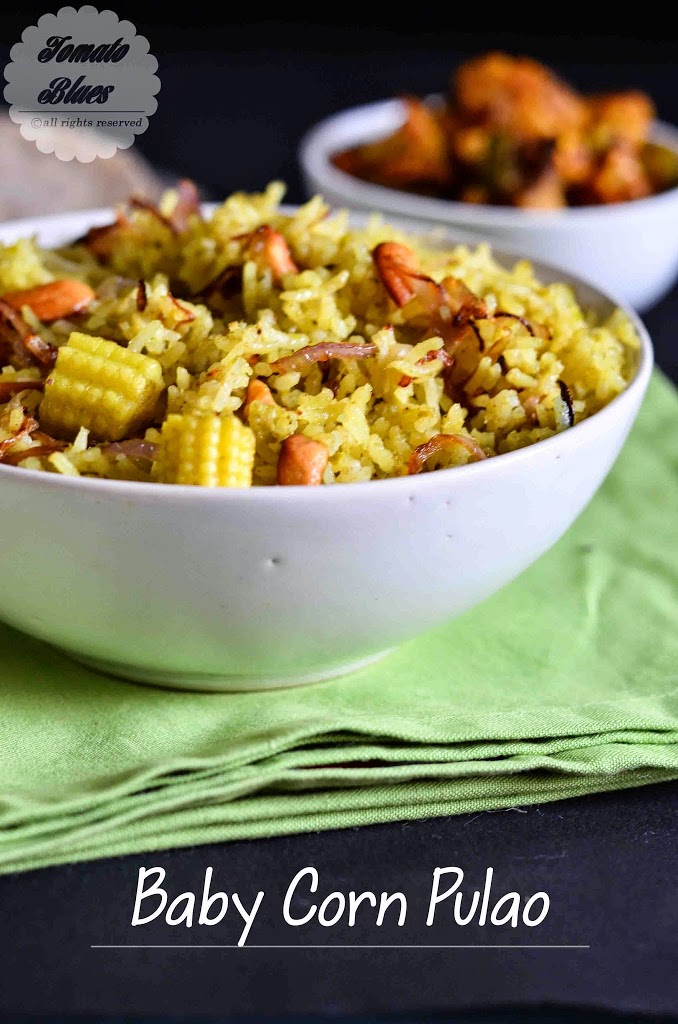 Recipe For Baby Corn Pulao
( Learn how to make baby corn pulao, an easy rice dish with baby corns and coconut milk.Vegan option included)
Prep Time: 30 mins
Cook Time: 20 mins
Serves 2
Allergy Info: Can be made vegan, Gluten free, Soy free
Course: Mains
Cuisine: Indian

Ingredients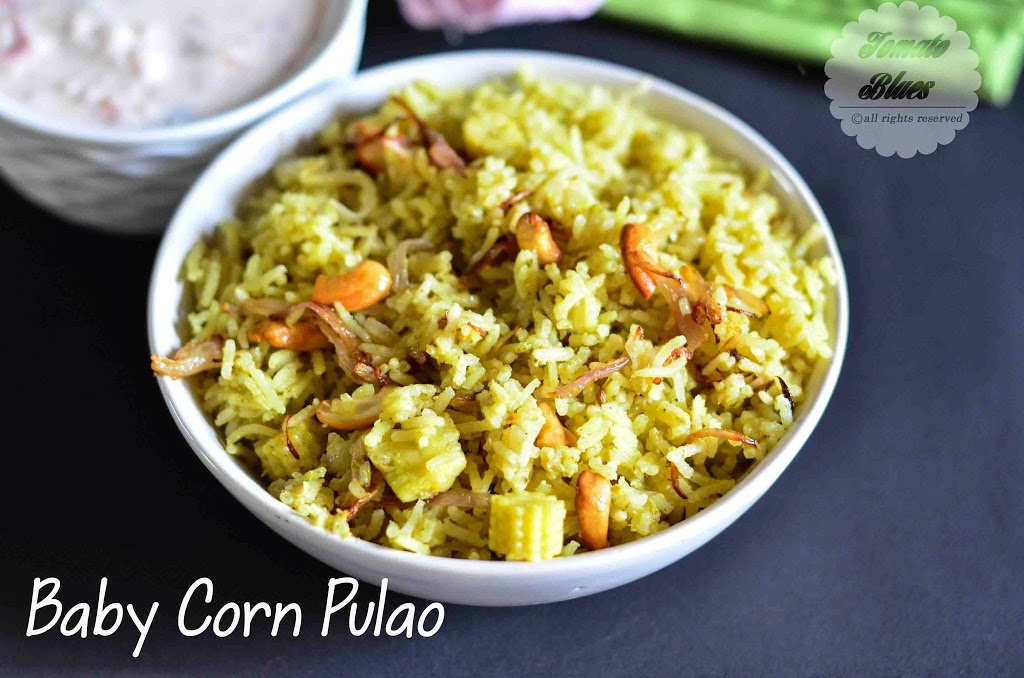 Basmati rice 1 cup
Thin coconut milk 2 cups
Onion 1 thinly sliced
Baby corn 10 halved
Bay leaf 1
Cloves 3
Cardamom 1
Cinnamon 1″ piece
Ghee or oil 3 tbsp
Salt to taste
To Be Ground Into A Paste:
Coriander leaves 1/2 cup firmly packed
Green chilies 4
Garlic cloves 4
Garam masala 1/4 tsp
Ginger 1/4″ bit
For Garnish
Onion 1 thinly sliced
Cashews a handful
Oil 2 tbsp
Notes:
1.Use vegetable oil for a vegan version.
2. I found that using freshly extracted coconut milk lends a beautiful flavor to the rice as opposed to canned coconut milk.
3. This recipe calls for coconut milk and not coconut cream
Directions
Wash the rice well with water and soak in the coconut milk for about 15 mins.
In the meanwhile, grind the masala, adding water little by little, to a fine paste.
Heat oil in a pan and add the bay leaf, cardamom, cloves and cinnamon.
Now, add the onions and fry them till pink.
Add the baby corns next and fry them for about 3 to 4 mins.
Now, add the ground masala and bring the flame to the lowest.
Simmer the masala and the corns for about 1 min.
Add the rice and coconut milk to this mixture along with some salt. Mix well.
Cook until done or transfer to an electric rice cooker and cook till done.
Alternatively, you can make the whole thing in a pressure cooker and cook the pulao without the pressure valve on low flame for about 10 mins.
Finally, heat 2 tbsp oil in a pan and fry cashews till golden.
Drain and in the same pan, add sliced onions and fry till golden.
Now add fried onions and cashews to the rice and mix well.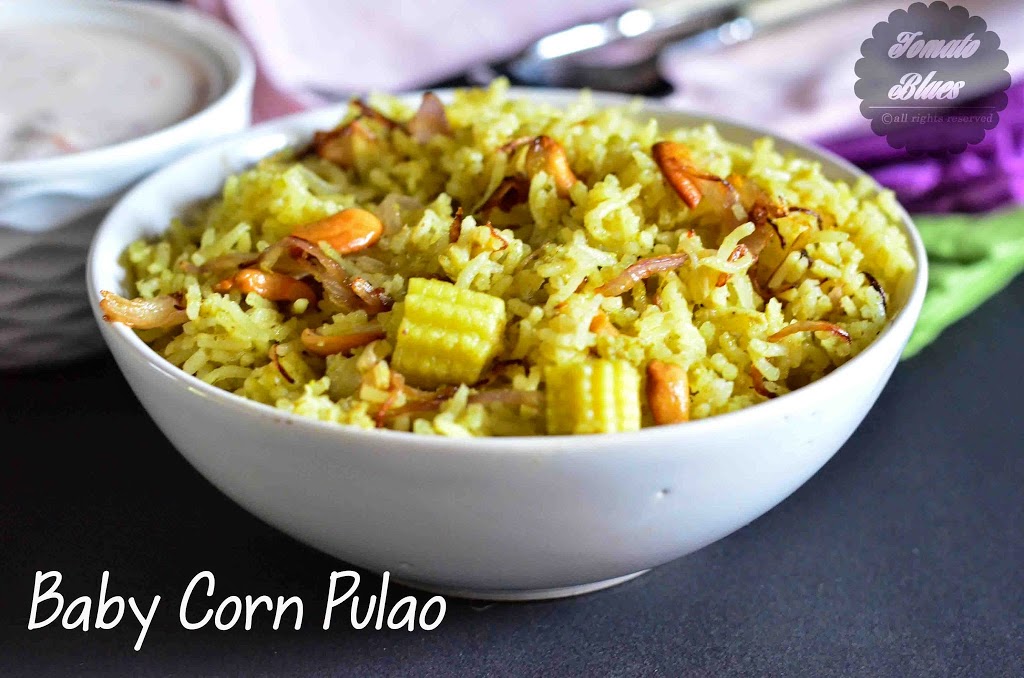 Serve hot with any raitha of your choice.
Sending this to Love Lock Rice