How To Make Baby Corn Paneer Jalfrezi?
BABY CORN PANEER JALFREZI- BABY CORN & COTTAGE CHEESE COOKED IN A TANGY SAUCE.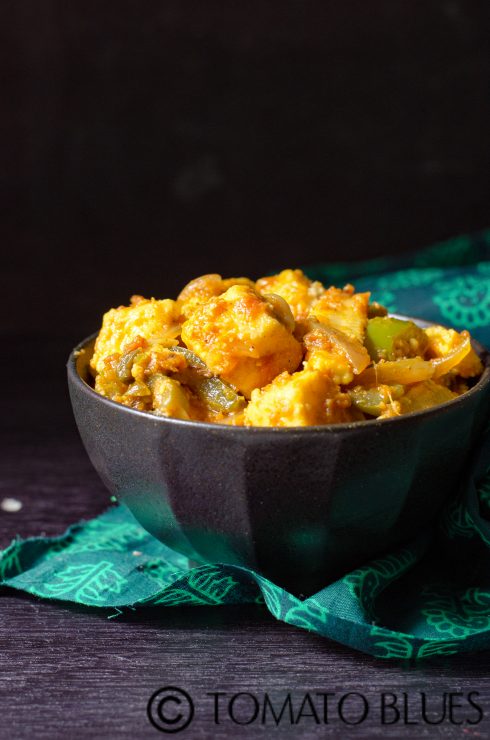 Before i delve into Baby Corn Paneer Jalfrezi recipe, i have some things to share.Have you heard my diatribe on corn before?? If not please, i insist you read my post on corn katti rolls. I am not that gal who goes all oohing and aahing over a bowl of corn kernels. I m not even that person who is visited by sudden gung ho when i pass through fields where corn taller than me has grown. I admit they are beautiful but only grudgingly though.
No kind of corn appeals to me a great deal and baby corn is no exception. But the combinations of a meal platter that is possible with baby corn will leave anyone more than amazed. I have a list as long as the Hanuman s tail. What s the list about?? Oh its got baby corn recipes. I find the light yellow of the baby corn light on the eye and boy! am i addict to those crispy baby corn fritters. Probably a recipe that i ll write up soon. In the meanwhile, here s baby corn paneer jalfrezi.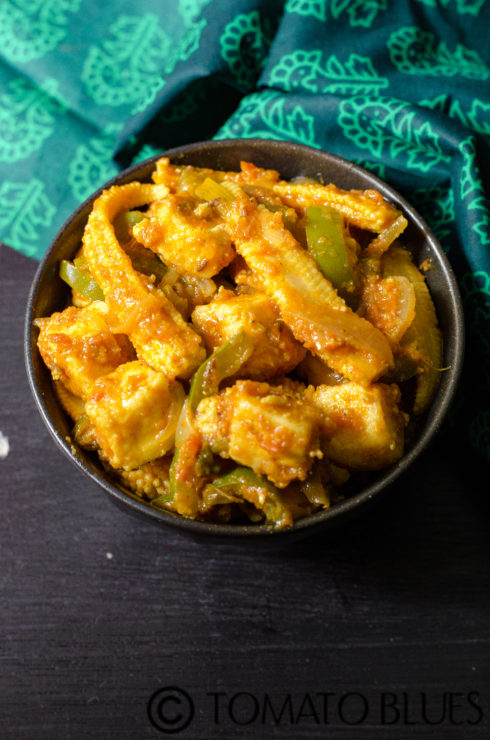 Recipe For Baby Corn Paneer Jalfrezi
( Learn how to make baby corn paneer jalfrezi, a simple curry with tender baby corns and cottage cheese)
Ingredients
Baby corn 8 cut length wise
Paneer cubes 1 cup
Bell pepper 1 sliced thinly
Spring onions chopped finely 1 cup divided
Cumin seeds 1/2 tsp
Hing a pinch
Ginger green chili paste 1 tsp
Turmeric powder a large pinch
Chili powder 1/4 tsp
Tomato puree 1/4 cup
Oil 2 tbsp
Salt to taste
Coriander for garnish
Directions
In a pan, heat oil.
Add cumin seeds. Once they crackle, add hing,ginger chili paste, spring onions and capsicum.
Saute until capsicum becomes just tender and the spring onions begins wilting. Let s say this takes about 30 secs.
Now, add the spice powders and saute for another 30 secs.
At this stage, add the baby corn and saute for a min.
Now, add the tomato puree and cook till oil separates.
Add salt to the mixture and combine well.
Add paneer cubes next and mix gently.
Garnish with coriander leaves.
Serve hot with any flat bread of your choice.
This is in memory of the wonderfully talented Barbara of Winos and Foodies who lost her battle to cancer recently. I dint have the chance to know her personally but then her blog is a testament by itself to her life and her willpower.This month s Monthly Mingle is all about A Taste Of Yellow and is being hosted at Cook Sister in memory of Barbara. We are all cooking something in yellow this month for Barbara, the brilliant blogger!