I ve been a terrific fan of
avocado
right from the beginning. Why I love Avocado in a yogurt dip is another story which i ll share some other time. But the. Dont ask me why i love avocado either. Lets just say that chunky things fancy me. I was first introduced to this gorgeous buttery fruit in Bangalore by a dear friend in the form of thick creamy milkshake. I got over my initial apprehensions about the pastel green in the tall glass, i took a sip and i knew i had discovered my nirvana milkshake. My order for a milkshake has always been the same ever since then. With the exception of a Vanilla milkshake, no one can convince me into any other flavor.
Its only after i began blogging that i knew an avocado can be used for many more things other than a milkshake. My first tryst with this nutrient loaded goodness was in the form of some guacomole. And then there was no looking back. Until i decided the other day to use it in a dip. And should i even mention how the dip bowl was licked clean!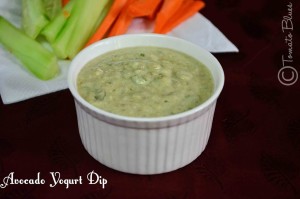 Recipe for Avocado Yogurt Dip
(An easy yogurt based dip that pairs up as a salad dressing too)

Prep Time: 10 mins
Cook Time: Nil
Serves 2 
Allergy Info: Gluten free, grain free, nut free 

Ingredients
Avocado 1 large scooped
Thick set yogurt 1 c
Cumin 1/2 tsp
Green chili 1
Mint leaves 4
Coriander leaves 2 tbsp chopped
Garlic 1 clove
Salt to taste
Lemon juice 1 tbsp
Directions
In a small blender, blend mint, coriander, garlic, green chili and cumin adding little water to a fine paste.
In a bowl, whisk the curd along with the salt.
Mash the avocado with a spoon into a smooth puree.
Now, add avocado, ground paste to the yogurt.
Mix well.
Chill for an hour.
Add lemon juice before serving.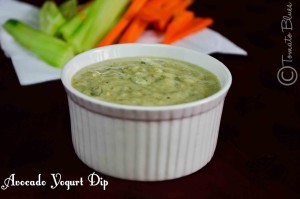 Serve this creamy Avocado Yogurt Dip  with carrot sticks or pita chips or even some parathas