How To Make Arisi Thengai Payasam, A Sweet Pudding With Coconut And Rice?
Arisi Thengai Payasam- An easy kheer or payasam with coconut, rice and jaggery for Tamil New Year. Payasam Recipes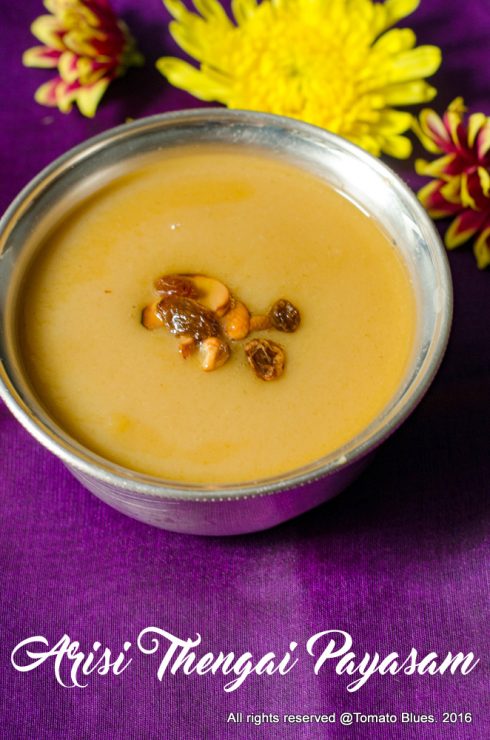 Arisi Thengai Payasam is a kheer or payasam (as it is called in tamil) prepared with freshly grated coconut, jaggery and rice. This payasam involves soaking the rice and grinding it along with fresh grated coconut which is then cooked on low flame along with jaggery. I have a thing for desserts that have jaggery as the sweetener. And it is no surprise that this payasam tops the list of my favorite desserts. Besides the fact that the arisi thengai payasam is a jaggery based dish, i also love that it incorporates freshly grated coconut which is great for summer related ailments. Coconut in general cools down the body. This Arisi Thengai Payasam is a great choice for beginners who want to make a fine dessert with minimal effort involved. The only tricky part in making this payasam is that the coconut rice paste may become lumpy if it is not stirred gently using a whisk. But for that, making this Arisi Thengai Payasam is a cinch.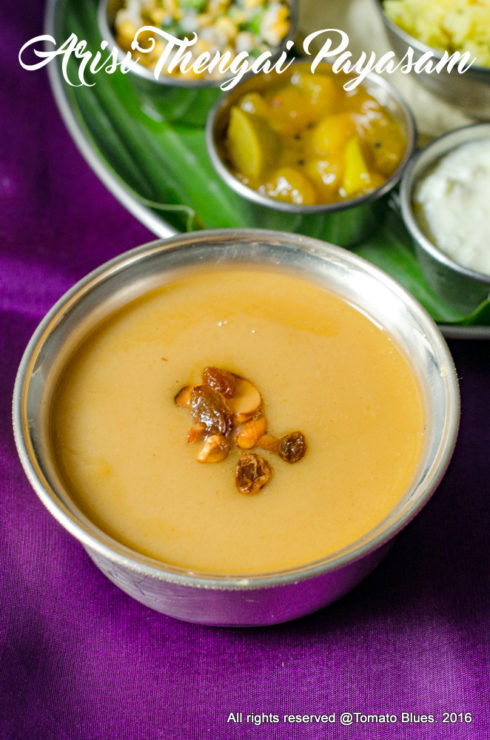 This payasam will make a great dessert to make on the coming Tamil New Year's day. It tastes great both warm and cold, although my preference is to enjoy the Arisi Thengai Paysam cold. I made this on the day of Ugadi this year for a change. No, actually the truth is i was too tired to make holige and so i decided to keep it simple and make Arisi Thengai Payasam. I soaked the rice the previous night because i was so sure that i was going to wake up late the next day. But as luck would have it, i woke up early on the day of Ugadi. You need not soak the rice overnight like i did to make this payasam. Soak some raw rice in hot water for about 1 hour and you are good to go to make Arisi Thengai Payasam. Just make sure your coconut is fresh and not desiccated.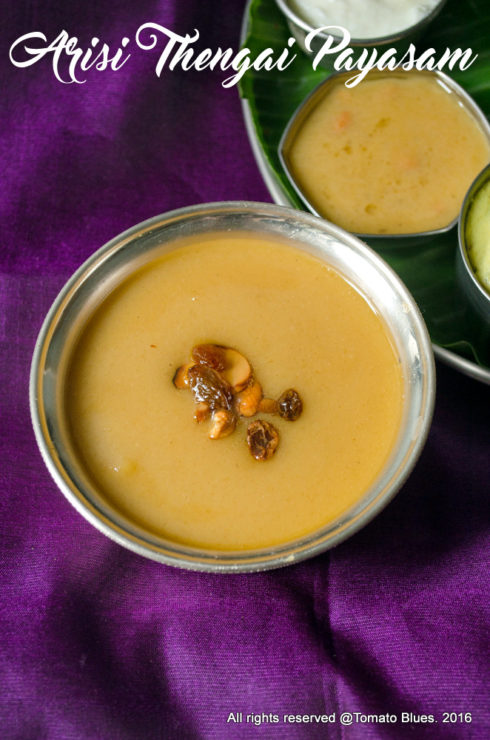 Recipe For Arisi Thengai Payasam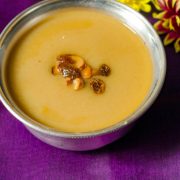 Print Recipe
Arisi Thengai Payasam Recipe
Arisi Thengai Payasam- A delicious dessert made with fresh coconut, rice and jaggery. This can be made ahead to serve up at a party. A gluten free dessert that can be enjoyed warm or cold.
Ingredients
Freshly grated coconut 3/4 c

Raw rice 2 tbsp

Jaggery 250 g or 1 cup grated

Full Fat Milk 1 cup

Water 1/2 c

Cardamom powder 1.5 tsp

Cashews 10 broken

Raisins 10 to 15 broken

Ghee

clarified butter 1/3 cup
Instructions
Soak raw rice in hot water for an hour.

Once the rice has soaked, combine it with coconut and 2 tbsp milk and grind to a smooth puree in a blender. Set aside

In a pan, combine the water and jaggery and heat this until the jaggery melts completely.

Make sure you do this on medium flame as jaggery burns quickly.

Once done, strain the mixture to get rid of any impurities.

Set this aside.

Heat a heavy bottomed pan with 2 tbsp ghee.

Add the ground paste and mix well and lower the flame to medium low.

Keep stirring the mixture until the coconut paste has absorbed all the ghee.

When you see no more ghee, add the prepared jaggery syrup along with the cardamom powder and mix well using a whisk.

Make sure the flame is medium and be sure to whisk thoroughly or the mixture may become lumpy.

Once the paste becomes thicker like that of porridge, add the milk and mix well.

Add about 1.5 tbsp ghee to the payasam at this stage and mix well.

Continue to simmer this for about 5 to 6 mins on medium flame.

Once done, transfer to a clean serving dish.

Heat a small pan with the remaining ghee.

Add the broken cashews and fry till golden. Drain and add to the payasam.

To the same pan, add the raisins and fry till they turn plumpy.

Once done, add this along with the ghee to the payasam and mix well.

Your arisi thengai payasam is ready.
For Instant Pot & Air Fryer Recipes
Instant Pot timings may vary based on your geographic location. Air fryer settings and timings may vary based on the capacity and the model of the Air fryer.
Disclaimer
Nutrition values are provided here as a courtesy and are only a rough guide. Please consult a health care provider if you have any concerns.