Come winter and there s no better comfort food than some parathas with a dollop of butter and a bowl full of raitha. The palette becomes yummier when you add a pickled lemon alongside to it. When Vardhini announced that she s guest hosting Vatsala s LGSS Stuffed Parathas event, i was as excited . Parathas are something that i love anytime anywhere. And P ( read as my husband) is crazy about aloo paratha. I just wanted to make it a lil differently and Vardhini s announcement was the perfect excuse.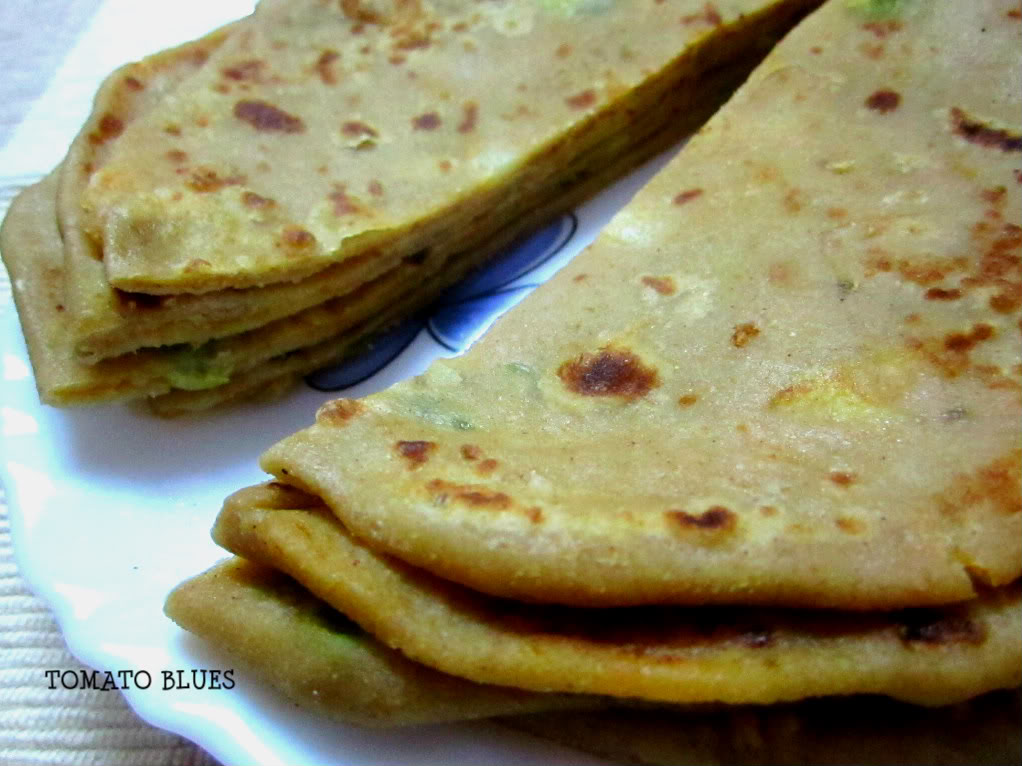 Prep Time: Under 20 mins
Cook Time: Under 10 mins
Yields 10 parathas
What you need?
For The Covering:
Whole wheat flour 2 cups
Ghee 1 tbsp
Salt 2 tsp
Ajwain or carom seeds 1/2 tsp
Water to knead the dough
For The Stuffing:
Potatoes 2 medium size boiled and peeled.
Paneer 1 cup
Cumin powder 1/2 tsp
Red chilly powder 1/2 tsp
Coriander seeds powder 1/2 tsp
Salt to taste
Cilantro chopped finely 2 tbsp
To Make The Parathas:
Oil for toasting on the tawa
How to make it?
In a large mixing bowl, place all the dry ingredients. Combine well.
Next add the ghee and water and start kneading the dough. Add water by the tbsp and knead for about 5 mins. Keep aside.
Now, the stuffing.
In another mixing bowl, place the potatoes and paneer.
Add all the spice powders and salt. Add cilantro too.
Now start mashing the potatoes, paneer and the other ingredients until you get a dough like lump.
Now, divide the mixture into 10 equal parts and make small balls.
Lets get to making the parathas now.
Divide the dough into 10 equal parts and make balls.
Dust a clean dry and flat surface with flour. Place a ball of dough on the surface.
Flatten it a little with your hands and start rolling into a round.
Roll it into a thick round and place a ball of the stuffing in the middle.
Next bring together the sides of the dough like how you would do for a string purse or a bundle.
Flatten the stuffed dough again gently into a round and dust with flour.
Now, start rolling out into parathas taking care not to roll applying too much pressure.
Heat a tawa. Place the parathas.
Drizzle oil on the sides and cook till brown spots appear on both sides.
Serve hot with any raitha or pickle