We celebrated our engagement anniversary recently on dec 6 th. Yes you heard me right. Engagement anniversary. We both believe in celebrating this day specially. This day is the day which made us and our families come together for a lifetime of bonding in an official sense. So we both celebrate this day just like our wedding anniversary. Hubby dint come home for lunch. So made a toothsome dinner for him. Aloo capsicum pulao and mint raitha. Recently i went on a Malliga Badrinath Book shopping spree and got this recipe from her 100 rice recipes. Each one of the recipes is a breeze to make so buy the book if you come across it.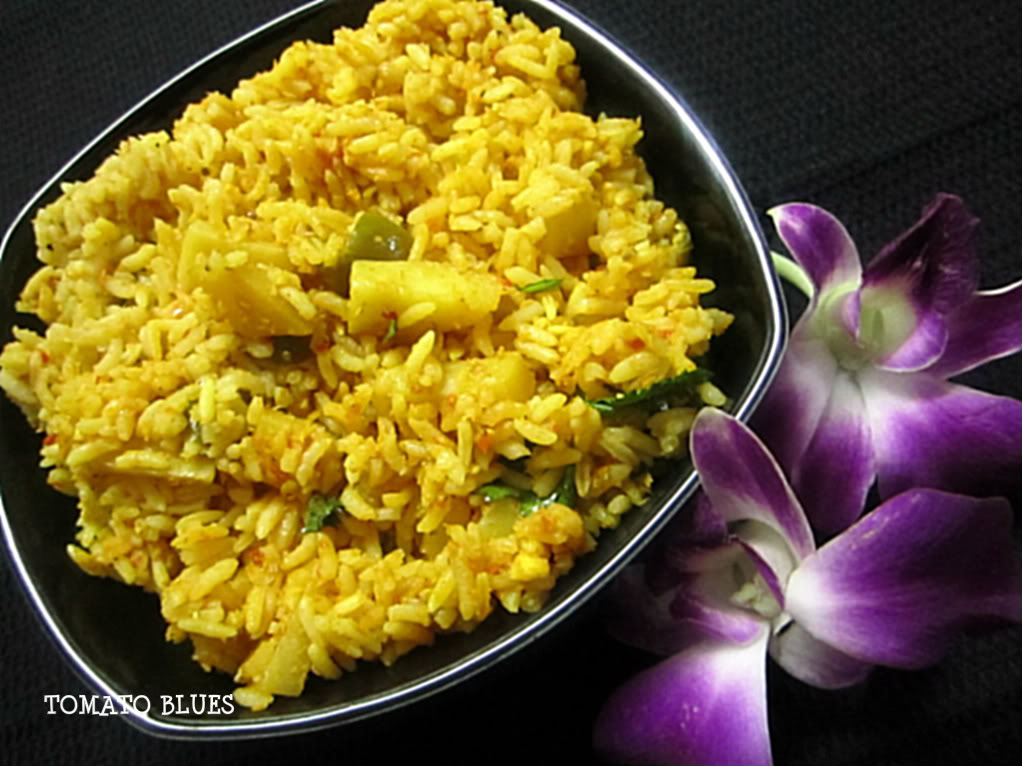 If you all are wondering what orchids are doing in the pic, those are the orchids my hubby bought me that day.
Enough of my blah blah….
Prep Time: Under 20 mins
Cook Time: Under 20 mins
Source: Adapted from Mrs. Malliga Badrinath s 100 Rice Recipes
Serves 2


What you need?
Basmathi rice 1 cup soaked in 1 cup water for 15 mins
Potatoes 2 medium peeled and cubed
Capsicum 1 large cubed
Onions 2 medium sliced thinly or chopped finely
Ghee 1 and 1/2 tbsp
Garam masala 1/4 tsp
Tomato Puree 1 cup or 2 medium size tomatoes pureed
Salt to taste
To grind into a paste without water:
Shallots 5
Coconut 3 tbsp
Bengal gram roasted 1 tbsp
Dry red chillies 4
Coriander seeds 1 tsp
Tomato 1 medium size
Garlic cloves 2
For Garnish:
Cilantro or mint leaves a few
How to make it?
Grind the ingredients to be ground to a fine paste and keep aside.
Heat a pressure pan with ghee. Add onions and saute till pink.
Add potatoes next. Saute for 3 to 4 mins.
Add capsicums next and saute for 2 to 3 mins or until cooked but firm.
Now, add the ground paste and saute for 3 to 4 mins or until the raw smell from the shallots goes off.
Next add the tomato puree and let it simmer for 4 to 5 mins.
At this stage add the rice along with the water and salt.Combine well.
Pressure cook for 2 whistles.
Garnish with mint leaves or cilantro and serve hot with any raitha of your choice.