I had quite a difficult time coining the title for this post. I was wondering how to classify this
Almond Coconut Fudge
as? Dessert or snack or just a sweet? No matter how i call it, there s no beating this no brainer vegan recipe. And i never knew before this that almonds and coconut can stay married so blissfully in a fudge.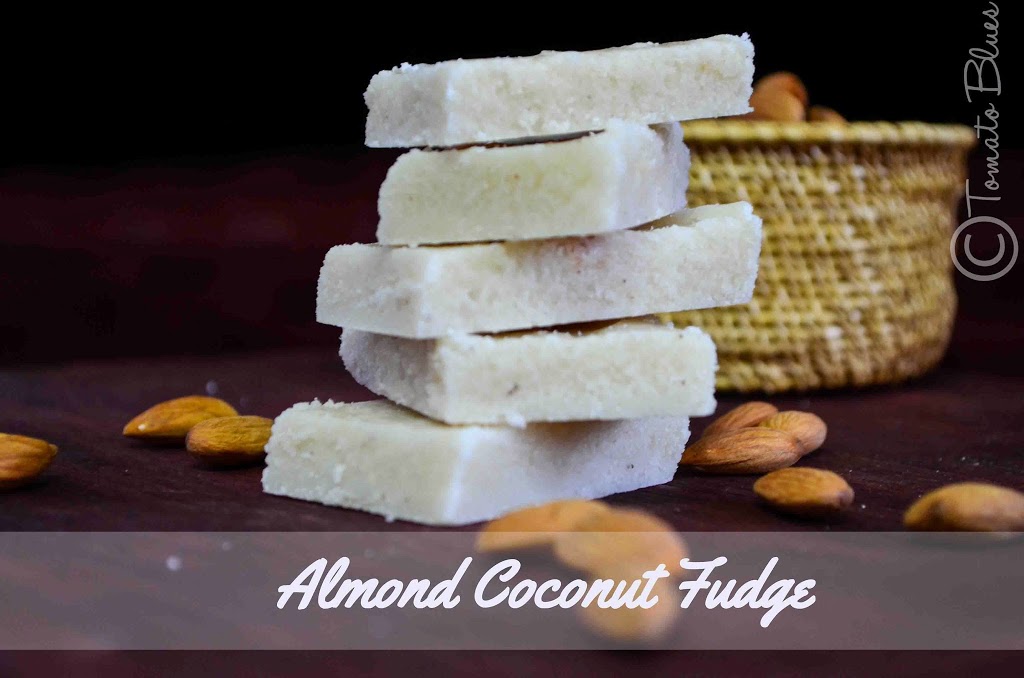 I love making fudges that dont call for some random string consistencies. I also love recipes which dont involve sugar syrup bubbling over and spilling on me. In that sense, i love this recipe. Its no fuss, no string checking and no spilling sugar syrup. I learnt this recipe from my mom in law. And i must mention here that but for the copious stirring that we did in turns, this recipe is truly a beginner s delight. Plus it calls for very few ingredients, actually five if you count the cardamom powder too.
Recipe For Almond Coconut Fudge
( Learn to make this vegan and gluten free fudge that uses a combination of almonds and coconut)
Prep Time: 8 hours to soak
15 mins for the rest
Cook Time: 20 mins
Makes 15 medium squares
Allergy Info: Vegan, Gluten Free, Soy free
Cuisine: International
Course: Dessert/ Sweet
Ingredients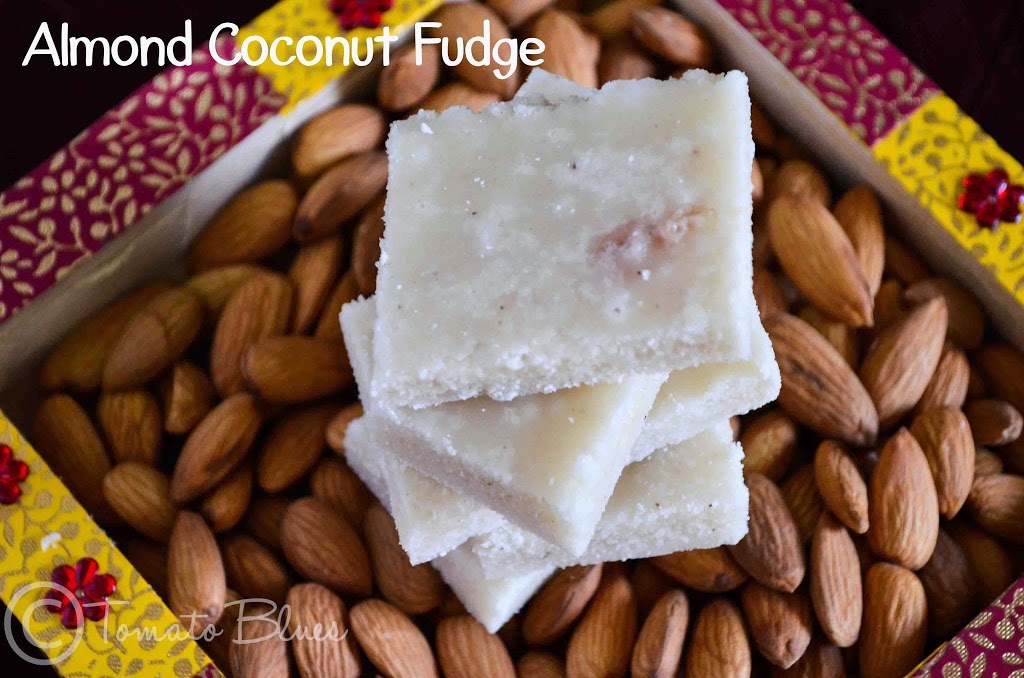 Almonds 3/4 c soaked overnight and peeled ( see notes below)
Freshly grated coconut 3/4 c
Sugar 2.5 c to 3 c ( see notes)
Water 1/4 c
Cardamom powder 1/2 tsp
Olive oil 1/2 tbsp for greasing
A 8″ diameter plate for pouring the mixture to set
Notes
1.You must soak the almonds overnight for this fudge. Sadly, the hot water technique wont work well here.
2.Dessicated or dried coconut doesnt work well in this recipe.
3.I used only 2.5 c of sugar because my coconut meat was sweet. Feel free to adjust the sugar levels 4.accordingly but not more than 3 c
5.In case you dont have olive oil, use any vegetable or coconut oil to grease the plate.
Directions
Grease a plate with oil generously. You can alternatively line it with a parchment paper too.
Peeling those almonds is going to take a while. Assuming that you have them ready, place almonds and coconut in a blender.
Add water and blend to a smooth paste making sure there are no stray bits of almonds lurking about. Do not use more water than mentioned. Transfer the paste to a bowl and set aside.
Heat a heavy bottomed pan and place the sugar in it.
Now, add water just enough to cover the sugar. I added about 1/4 c here.
Keep stirring on medium flame until the sugar melts completely. Do not wait till the mixture starts boiling or bubbling. We only need to melt the sugar.
Now add cardamom powder and give a good stir.
Turn down the heat to the lowest possible.
Next add the ground paste and using a whisk, stir the mixture well.
Once the paste and the sugar syrup is well incorporated, turn up a heat a little.
Gear up for some work out now cos we need to stir. I m talking about relentless and gentle stirring here.
Use a wooden spatula and keep stirring the mixture continuously until it begins to thicken and leaves the sides.
Do not panic if the mixture looks watery in the beginning. It will thicken over time and stirring. But keep in mind to use only the amount of water mentioned here.
Once the mixture begins to leave the sides, cook the mixture for 2 further mins.
Now transfer the mixture to the greased plate.
Using a flat bottomed cup or anything that pleases your fancy, gently even out the surface of the mixture.
Allow it to cool down a bit.
Once it has cooled down, run a really sharp knife to make pieces of the fudge.
You may be tempted to invert the plate and remove the mixture now but no! be warned.
Wait for the mixture to completely cool down before attempting to remove the fudge from the plate.
Once completely cool, invert, remove and store in an air tight container.
Keeps well for a week on the shelf.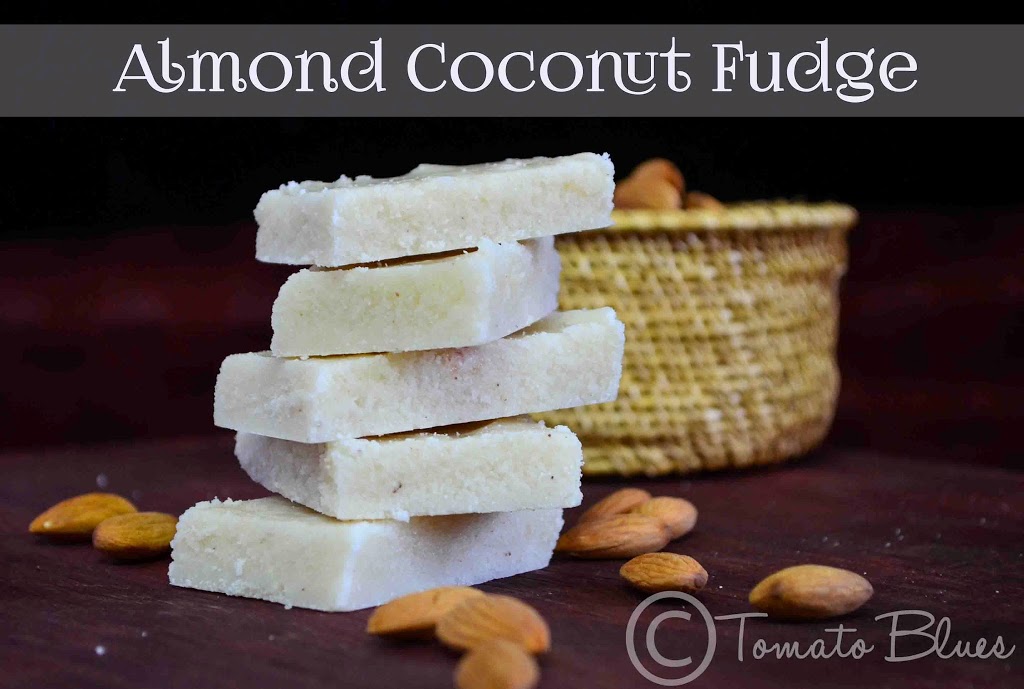 Makes for nice gifts too. Some fancy packaging is all ya need.