How To Make ABC Juice or Apple Beetroot Carrot Juice?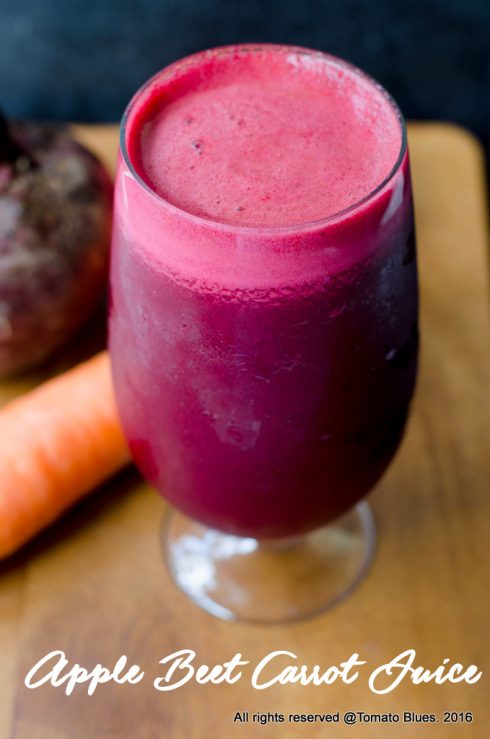 ABC juice or Apple Beetroot Carrot Juice is the way i begin my day everyday. This ABC juice is rich in nutrients and is a delicious concoction of all good things that mother nature can give us. Ever since my daughter took to drinking the ABC juice outside, i had the thoughts of buying a juicer just so that she can enjoy the goodness of this apple beet carrot juice at home. On my last trip to India, i lugged back a Philips juicer and the rest is history. I have been making this ABC juice ever since then every single day and my daughter seems to enjoy it too.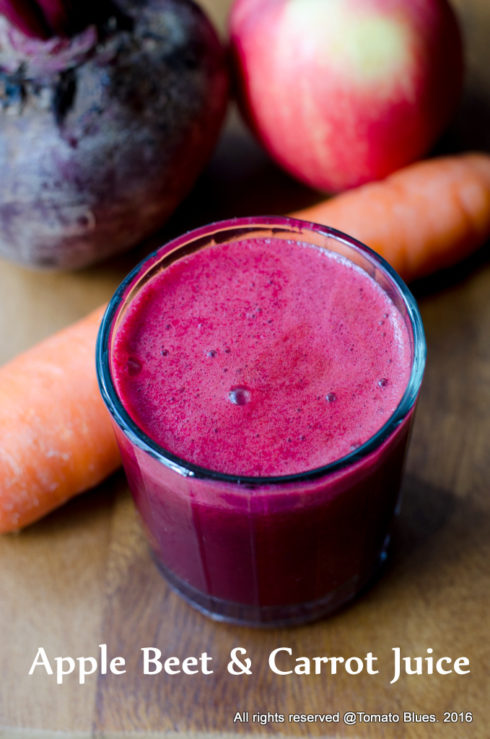 The ABC juice or apple beetroot carrot juice is considered a miracle drink in the health world because of the vitamin enriched drink that it is. Carrots are a rich source of Vitamin A. Beets are a great way to improve hemoglobin levels in your body. And apples are a fantastic source of antioxidants, phytonutrients and dietary fiber. I have also added an orange, a Vitamin C stash and a stick of celery to this juice. Celery helps in your gum and teeth health and is believed to have anti-inflammatory properties. So, do make this ABC juice or apple beetroot carrot juice and stay healthy in a delicious way.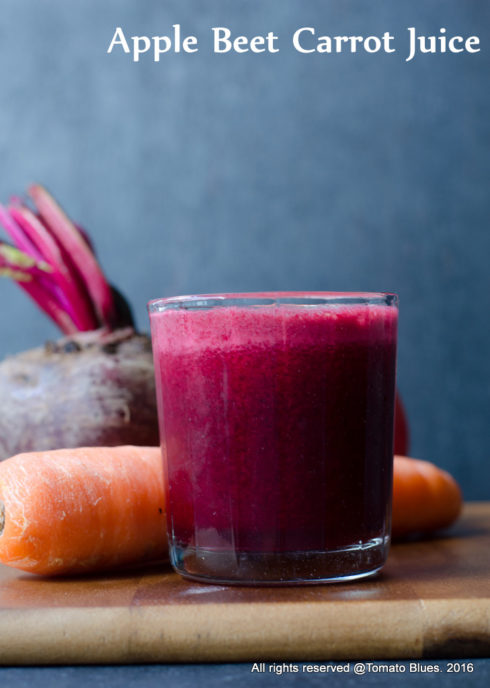 Recipe For ABC Juice or Apple Beetroot Carrot Juice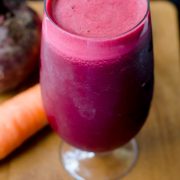 Print Recipe
ABC Juice Or Apple Beetroot Carrot Jucie
ABC juice or Apple Beetroot Carrot Juice is called a miracle drink. Rich in nutrients, it can be enjoyed by kids and adults alike on a daily basis
Ingredients
Carrot 1 medium

Beetroot 1 medium peeled

Apple 1 medium cored

Orange 1 medium

Celery stick 1 medium

To serve

Pink salt 1 tsp

Lime juice 1 tsp

Ice cubes a few

optional
Instructions
Juicer method:

If you have a juicer, then simply push all the veggies and fruits through the feeder and wait for the juicer to completely extract juice from the mixture.

Once done, add pink salt and 1 tsp of lime juice.

Mix well.

Drink the juice without straining.

Blender method:

You have to chop the apple, beet and carrot into cubes sized pieces before you place them in the blender.

Place the orange, beet, carrot, celery and apple in the blender along with the pink salt and lime juice. Add 1/2 c of water..

Blend to a smooth puree.

Strain and drink the juice immediately.
For Instant Pot & Air Fryer Recipes
Instant Pot timings may vary based on your geographic location. Air fryer settings and timings may vary based on the capacity and the model of the Air fryer.
Disclaimer
Nutrition values are provided here as a courtesy and are only a rough guide. Please consult a health care provider if you have any concerns.