Well, Oct 21st was the day my husband and i had finished 2 years knowing each other formally. The day is close to my heart. Like every typical arranged marriage, we both met at my home, my parents talked and we married. But we ve managed to write quite a love story after that. And i just cant not commemorate the day with a good lunch. I wanted to do something different yet delicious and for the main course. So i chose mushroom biriyani. Mushrooms. A few of my roomies back in hostel used to decsribe non vegetarian delicacies in terms of mushroom. But i just cant forget a recent comparison of lobsters and mushrooms. That was a friend of the hubby. Analogies apart, if you are a mushroom lover, this one is a must for you. If you dont love them, you will after you eat this. Either way, its a win win situation. So just grab a packet of those cute button mushrooms and start cooking sometime soon.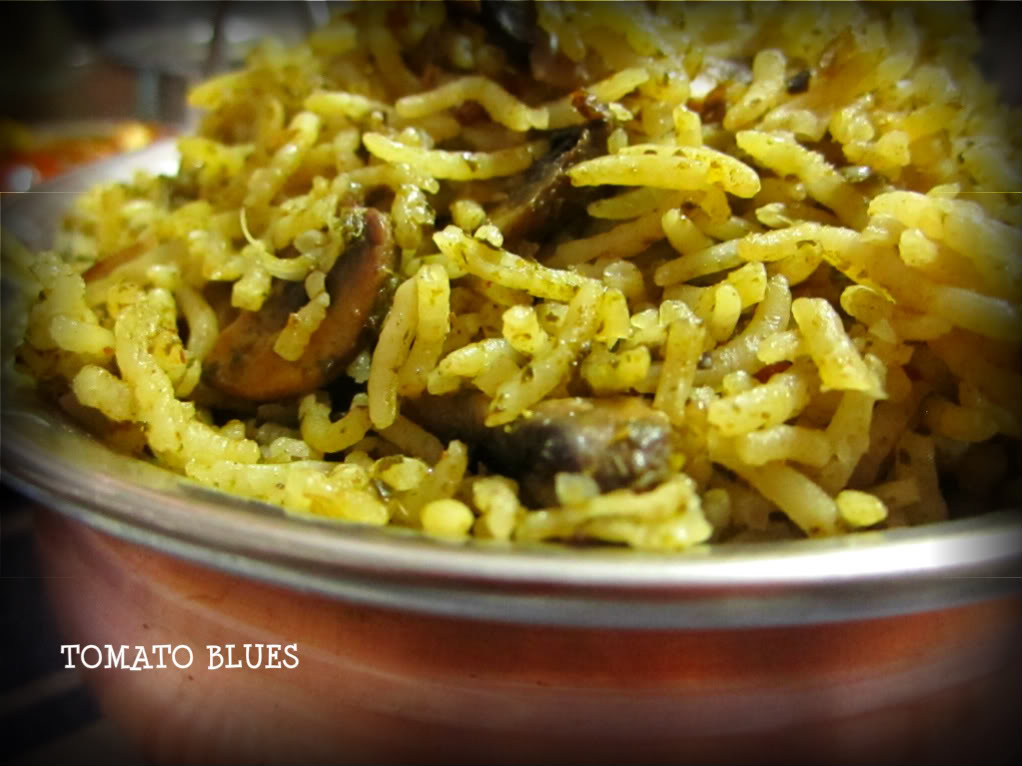 Recipe For Mushroom Biryani
( Learn how to make Mushroom Biryani, an easy biryani with mushrooms and basmati rice)
Prep Time: 15 mins
Cook Time: 30 mins
Serves 2
What you need?
Basmati rice 1 and 1/2 cups soaked in 3 and 1/4 cups water for 30 mins
Onion  2 medium one half sliced finely
Tomato 1 large one finely chopped
Mushrooms 1 cup chopped
Bay leaf 1
Cloves 2
Cinnamon 1″ piece
Oil and ghee 1 and 1/2 tbsp
To be ground into a paste
Pudina 1/2 cup if using fresh 1/4 cup if using dried ones
Coriander leaves chopped finely 1/2 cup
Green chillies 4
Garlic 4 cloves
Ginger 1" bit
Cumin seeds 1/2 tsp
How to make it?
First grind all the ingredients that are to be ground into a fine paste and keep aside. Avoid adding too much water. You should stop with less than 2 tbsp of water.
Next, heat oil ghee mix in a kadai. Add bay leaf, cinnamon and cloves. Saute for a minute. Now, add the onions and saute till pink and transparent.
Next, toss in the tomatoes and saute till oil separates from the mixture.
Now, add in the mushrooms and saute for 2 to 3 mins. They cook fast because they are tender.
Now, add the ground paste and saute for a minute. Not more than that cos you ll lose the flavours.
Now, add the soaked rice along with the water and salt and mix well.
Transfer to a rice cooker and cook.
Tastes yummy with simple onion raitha.
I served it for lunch with butter naan and kadai paneer.

My lunch spread for Oct 21