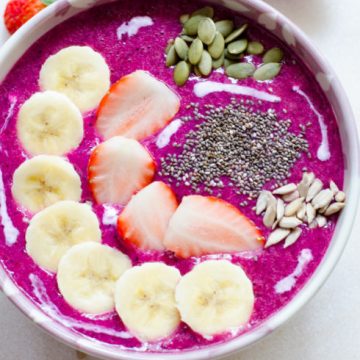 Dragon Fruit Smoothie Bowl Aka Pitaya Smoothie Bowl
Dragon Fruit Smoothie Bowl- A delicious thick dragon fruit smoothie topped with fruits and nuts.Vegan.
Purple dragon fruit 1 peeled and cubed

Strawberries 4 to 5 hulled

Banana 1 medium

Vanilla extract 2 drops

Lemon juice 1 tsp

Chilled Almond milk ½ cup

Choice of sweetener 1 tbsp

optional

Topping:

Banana 1 sliced

Strawberries 2 to 3 hulled and sliced

Pepita

pumpkin seeds 1 tbsp

Sunflower seeds 1 tbsp

Chia seeds 1 tbsp

Coconut milk 2 tbsp
In a blender, combine almond milk, banana, dragon fruit, strawberries, vanilla and lemon juice and blend till smooth.

Pour into a deep bowl.

Top with the sliced banana, strawberries, pepita, chia and sunflower seeds.

Drizzle coconut milk on the smoothie

Serve immediately.