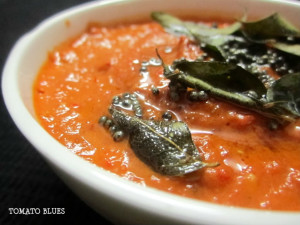 Red Bell Pepper Chutney
A delectable chutney with red bell peppers and tomatoes that pairs well with idli, dosa, chapati, puri and the likes.
Red bell pepper 1 large cubed coarsely

Tomatoes 2 medium chopped coarsely

Garlic cloves 5

Dry red chilies 3 to 4

Tamarind paste 1 ½ teaspoon

Salt as needed

Oil 1 tablespoon

For tempering:

Mustard seeds 1 teaspoon

Curry leaves a sprig

Hing a large pinch

Oil 1 teaspoon
Heat oil in kadai. Add the garlic cloves and saute for a min. Add the tomatoes and saute till they are soft

Now, add the bell peppers and fry them for 3 to 4 mins. It even tastes great of you char them a little in the edges.

Next add the dry red chillies and combine well.

Let it cool.

Add tamarind paste and salt to this and grind in a mixer to a smooth paste

Temper with mustard seeds, curry leaves and hing.

Serve with dosa or idly or even parathas.