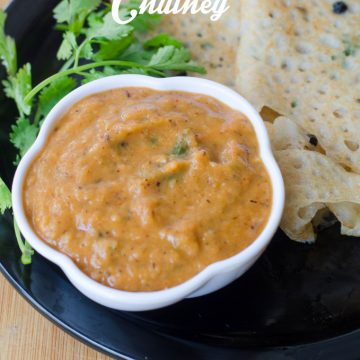 Onion Tomato Garlic Chutney
Onion tomato garlic chutney is a simple and easy to make chutney that pairs well with dosa, idli, puri and paniyaram
Tomatoes ripe and large 3 chopped finely

Garlic cloves 4

Onions 2 medium chopped finely

Dry red chillies 3

Tamarind paste 1 tsp

Salt to taste

Oil for sauteeing 2 tbsp

For Tempering

Mustard seeds 1 tsp

Curry leaves a sprig

Hing a pinch

Urad dal ½ tsp

Oil 2 tsp
Heat a kadai with oil. Add onions and garlic and saute till onions are transparent.

Next, add chillies and saute for 30 secs.

Now, add tomatoes and saute till there s no moisture and they are soft and mushy.

Let it cool.

Once cooled, blend the tomato onion mixture with tamarind and salt to a smooth paste.

Temper with mustard, curry leaves, urad dal and hing.