The first thing that flashes across my memory when someone talks about phulkas is that of a dear friend who is almost like a sister. I came to know her when i used to live in a hostel which served flying discs chapathis. Oh yeah, they could even be turned into a boomerang sometimes. Depending on the shape.While we killed a year s dinner with these monstrous chapathis and some cardboard like gravy, we also became as thick as thieves. Then the inevitable happened. One of us had to vacate and that one was she. She got herself a house and i was there at her place every weekend. Oh my, what weekends they were. Shall i equal them to unadulterated bliss? Bliss derived from playing cards at ungodly hours and hooting at the snoring neighbour. But the real joy to me was watching my friend effortlessly make phulkas. She would go about the entire process just like an accomplished surgeon who knows what he is doing. She used to knead the dough, roll them out and cook them on the girdle in 30 minutes flat. And how many did she cook? A whole 30. Yes, you heard me right. She made 30 in 30 mins. All the same size and not too thick or too thin.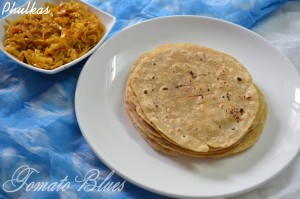 Watching her that way made me jealous because i knew even back then, that no matter how much i labor, i can never be her and i m not. But then, 2 whole years of watching her work her phulkas has inspired me to make my own. Ok, i make like 12 in 30 mins. But 12 aint that bad?? Ok i cant make all in one size but does size matter? Anyway, this is not something that one needs a Cordon Bleu degree to accomplish and yet, you wont be eating much dinner or lunch without knowing the right technique too. So, i thought why not tell y'all?? So here i am telling y'all how to go about a phulka. Phulka- The Flatbread That Can Never Be Boring.( Of course, in my opinion that is!Timing matters in making phulkas immensely. Too long at the stove, you will get burnt flat discs which were how mine used to look before i practised.Sigh! Took me 2 years to get here.)

Prep Time: Under 15 mins


Cook Time: Under 30 mins for a batch of 12


Yields 12 medium size phulkas
For yummy recipes to dip your phulkas in check out curries and gravies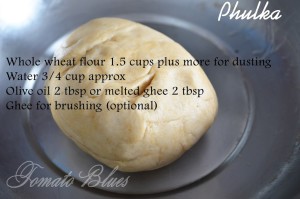 ( A lot in a phulka recipe depends on the wheat flour that you use and the water that you add. You must add only the right amount of water. Too much water, you will get a sticky dough and you will soon be dusting your dough too much and you will get dry phulkas. Too little water and you will land up with brittle discs. So we dont want both. And a lil oil does a lot of magic. So, either oil or ghee but then either is a must.Never use a dosa girdle to make phulkas or you will never be able to make good dosas again for the next few days. Smarten up and listen to a woebegone dosa maker who s been at it once time too many. For best results, use a non stick girdle.You will need a mesh to cook the phulkas on flame or if you are confident enough, cook it on direct flame but make sure you have a tong handy. Or better yet, once you have cooked your phulkas on each side and brown spots begin appearing, close them and cook them for another 30 to 45 secs on medium flame and that should give you fluffed up phulkas! In case, you take more time to roll out the dough, then make sure you ve rolled out all the small balls into thin rounds. Place them on a newspaper side by side and then begin cooking them.)


What You Need?
Whole wheat flour 1.5 cups plus more for dusting
Water ¾ cup approx
Olive oil 2 tablespoon or melted ghee 2 tbsp
Ghee for brushing (optional)
How To Make It?
In a large mixing bowl, place the flour. Make a well in the middle and add the oil.
Now, start adding water gradually and knead the dough until you get a smooth pliable ball of dough.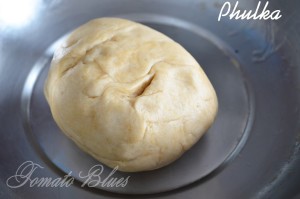 Grease with a little oil and let it rest for 5 to 10 mins.
Now, make 12 equal portions of the dough.
Roll them up into small balls.
Begin with one small ball.
Flatten it a little and dust with a little flour.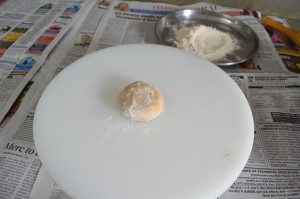 Then roll it out into thin rounds working at a 45 degree angle to make sure that the dough is evenly spread.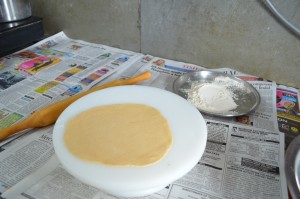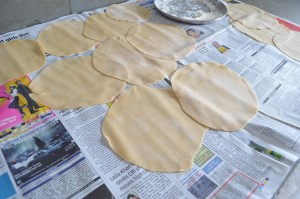 Heat a non stick tawa.
In another burner, place the mesh and light up the stove. Bring the flame down to the lowest when not using.
Now, place one phulka on the tawa and cook on each side for 30 secs until small brown spots appear and it just starts to bubble up.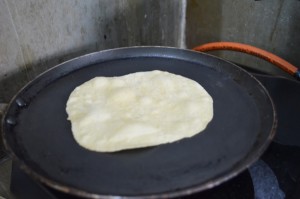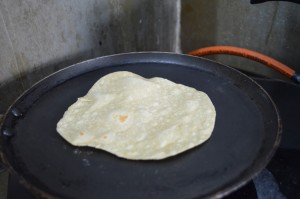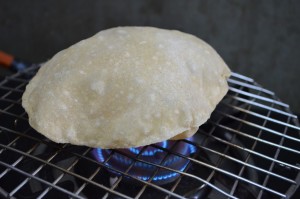 Immediately place the phulka on the wire mesh and cook until puffed up. Make sure you turn up the flame while you do this.
Once puffed up on one side, flip the phulka using a tong to the other side and cook for 20 tp 30 secs.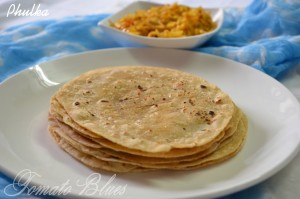 Once done, brush with clarified butter on both sides lightly and place in a tin foil lined plate or vessel.

Serve hot with any curry of your choice.
Sending this to lets cook breads.