Cabbage and carrot thoran, an easy stir fry that uses shredded cabbage and carrot is a regular in our lunch menus. Our lunch is mostly
South Indian.
While i used to love the variety offered in a South Indian meal earlier, what amazes me ( a converted conscious eater at the moment) now, is that it is mostly
vegan
and it is also
gluten free
. The tiniest amount of gluten comes with the addition of hing or asafoetedia which can easily be avoided. So, its one meal that can be eaten by everyone but most importantly, its a treat to those who are allergic to lactose and gluten.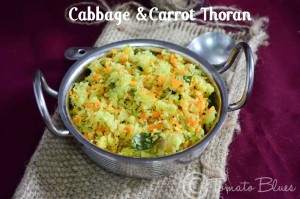 The simplicity of the recipes served in a South Indian meal leaves me stumped every time. How can something turn out so delicious with so few ingredients. It doesnt involve much masala, grinding and what not! This thoran which is nothing but a simple vegetable curry in Malayalam bears testimony to that fact. Its easy to make, calls for few ingredients, is vegan and gluten free. I ll call that double bonanza!
Cabbage And Carrot Thoran
Prep Time: 10 mins      Cook Time:20 mins              Allergy Info: Vegan, Gluten Free
Cuisine: South Indian                               Course:Vegetable Accompaniment
     __________________________________________________________________________________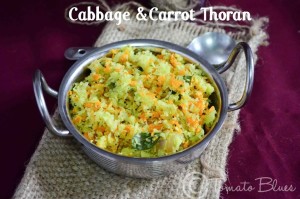 Ingredients 
Cabbage ¾ c chopped finely
Carrot 2 small peeled and chopped finely
Shallots 5 chopped finely
Green chilies 4 to 5 slit lengthwise
Freshly grated coconut 3 tbsp
Ginger 1 teaspoon grated
Turmeric powder 1 tsp
Salt to taste
To Temper:
Oil 1 tbsp
Mustard seeds 1 tsp
Urad dal 1 tsp
Curry leaves a sprig
Directions
Microwave cabbage and carrot for 8 mins on high with turmeric powder. Alternately you can cook it on stove top in a deep vessel with 2 cups water until cooked but firm. Drain completely and set aside.
Heat a pan with oil.
Pop the mustard and add urad dal.
Now, add curry leaves, ginger and green chilies and fry till green chilies turn white.
Tip in the shallots next and fry till golden.
Now, add cooked cabbage and carrot along with salt and mix well.
Cook covered  on medium flame for 5 mins.
Now, add grated coconut and mix well.
Serve hot with rice and 
sambar
P.S. You can make this curry with either cabbage or carrot or even add some green peas to it.
The curry leaves are a must for the flavor.