Doughnuts!! I have lived on them. Practically through my 12th grade, when we dint have enough time to sit down and eat a hearty evening tiffin. And when
We Knead To Bake Challenge 6
was announced as donuts, i almost did a cartwheel. Well then i hit the blues. Or should i say, the blues hit me. Either way, the point- i was feeling blue. You know, the sad, the lazy sort? Like, You dont feel like getting out of the bed. You feel as though you have moved mountains even though all you have done is read a few badly written answers and roll out chapathis. You constantly feel like watching Greys Anatomy reruns or sleeping. You know how one of those days feel like, dont you? But unfortunately for me, those "one of those days" ( one, being the operative word), lasted a fortnight.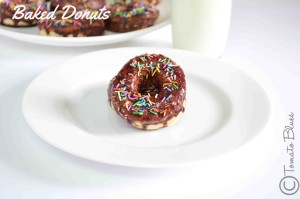 It took me a lot to break that routine and spring back into action. And last week, magically, everything felt just right. Right enough to get set go and bake some donuts! So, here s the recipe. You cant go wrong with this. Its beginners delight and the children will whoop with joy when you are done baking them. Go to town with these donuts, for they are worth it. Get out that chocolate. Hunt down those sprinkles. And bake them. More importantly, make sure you save one for yourself before you put them out on the table. They are that good, baby!
Recipe for Baked Mini Donuts
( Eggless donuts that are baked in the oven and glazed with chocolate)
Prep Time: 20 mins for putting the dough together
1 hour for the first rise
20 mins for the second rise
Cook Time: 10 mins
Yields 12 mini donuts
Source: Inspired from here
Allergy Info: Egg free, Nut free
Ingredients
Flour 1 to 1.5 c
Corn flour 1 tbsp
Instant yeast 2 tsp
Warm milk ½ c
Super fine sugar 3 tbsp
Unsalted Butter 50 g cold cut into cubes
Vanilla 1 tsp
Salt ½ tsp
For The Chocolate glaze
Dark chocolate 50 g
Butter 2 tbsp
Cream 1 tbsp
Milk 2 tbsp
Caster sugar ½ c
Vanilla 1 tsp
Unsalted butter ¼ melted for brushing
Directions
In a bowl, combine warm milk, yeast, vanilla and sugar and mix well. Make sure the milk is neither too hot nor too cold. Very hot milk will kill the yeast and cold milk never helps the yeast perk up.
Now, in another bowl, combine 1 c of flour, cornflour and salt and mix well.
Add this to the milk mixture and mix gently until all comes together in a mass.
Add some of the remaining flour if you find the dough sticky. The dough must come together in a mass slightly pulling away from the sides of the bowl.
At this stage add the butter and mix well into the dough. You will have a sticky dough at this point.
So use up the rest of the flour and start kneading the dough until soft, smooth and elastic. This takes about 4 to 5 mins when done by hand.
Now, transfer the dough to a well oiled bowl and cover with a clean damp kitchen towel. Let it rise until double in volume.
Once doubled, slightly punch the dough and transfer to a floured surface.
Roll the dough out into ½″ thick rectangle. Or any shape that you please. What matters is that the overall thickness must be ½″.
Use a 3″ doughnut cutter and press on the rectangle sheet of dough gently to make donuts. Dont press hard or the dough may stick onto the cutter. Collect the scraps of the remaining dough, roll into a rectangle again and repeat. If you roll the dough too thin, you wont have nice fat looking gorgeous doughnuts.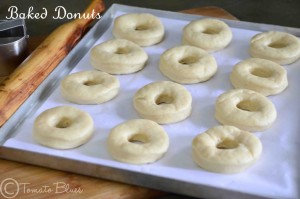 Now, place the doughnuts on a parchment lined baking tray.
Cover with a damp kitchen towel and let rise for another 20 mins.
Preheat the oven to 200 C towards the end of the second rise.
Pop the doughnuts into the oven and bake for 5 to 10 mins until tops are browned.
Once done, remove and brush with butter generously.
Lets make the glaze now.
Combine milk, cream, sugar and butter in a thick bottomed pan and stir until mixed well. Heat until it comes to a rolling boil.
Now, add the chocolate bits and mix until smooth.
Once done, dip the donuts in immediately and let rest on a parchment lined tray to set.
Give about 30 mins to set.
Once done, devour them!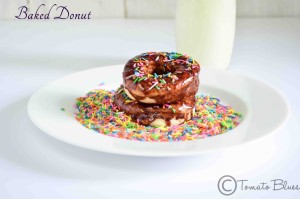 P.S I used about 2 cups of flour in all. The addition of corn flour is purely optional. The butter has to be cold to get the beautiful texture. Make sure to glaze the donuts as soon as the glaze is made for the glaze hardens if kept for a while.